What you need to know about Maryland's mask mandate
July 27, 2020 | Gov. Larry Hogan issued an executive order Wednesday expanding mask-wearing restrictions, mandating that everyone older than 5 must wear masks inside all public buildings, including restaurants, houses of worship, gyms, casinos, stores and office buildings starting Friday at 5 p.m. Masks also will now be required outdoors whenever it is not possible to maintain social distancing of at least 6 feet from others. Learn more here.
Teamsters rally against racism
Aug. 7, 2020 | Listen to the latest edition of the Teamsters Podcast and how learn how the union joined with labor allies in the Strike for Black Lives. Plus, we hear from a NIOSH official about how truckers can remain safe on the job. Featuring interviews and audio from Teamsters Human Rights and Diversity Commission Director Marcus King; UPS driver and Local 804 member Antoine Andrews; Local 322 member Kim Campbell; Local 777 President Jim Glimco; and Dawn Castillo, the director of the Division of Safety Research for the National Institute for Occupational Safety and Health.
Teamster Union provides latest updates on Covid-19 daily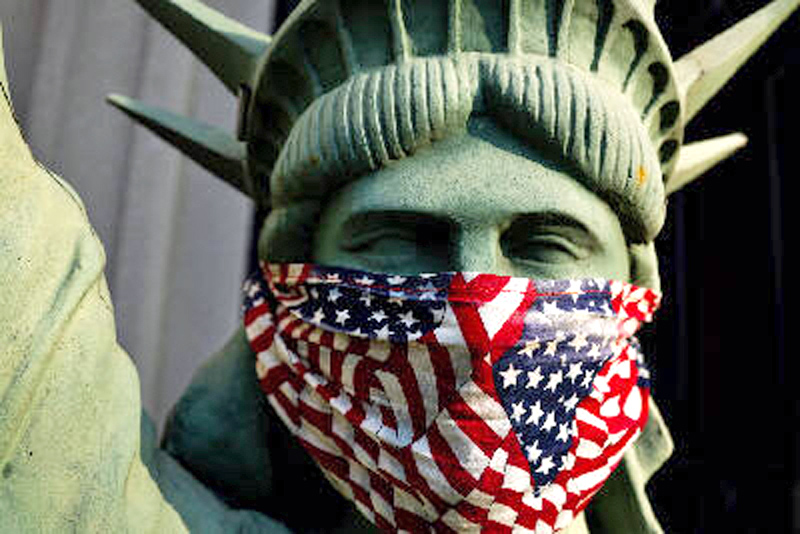 Aug. 13, 2020 | The IBT continues to closely monitor the global health crisis caused by the coronavirus pandemic. The IBT's most recent update is here. The news updates regularly provided also include helpful guidance via short videos such as – what the difference is between quarantine and isolation here; suggestions for managing the anxiety and stress we may experience while living through the pandemic era here; CDC Director Robert R. Redfield, MD discusses how we can slow the spread of COVID-19 here; and tips for safer summer travel here. Fact sheets from the Union's Safety & Health Department are updated as additional information becomes available. You can find those here.
Teamsters celebrate 100th anniversary of 19th Amendment

Aug. 18, 2020 | In a message to the union's members today, Teamsters Women's Conference Director Nina Bugbee wrote, "August 18, 2020, marks the 100th anniversary of the 19th Amendment, which granted women the right to vote. It's been a century since women could first cast a ballot. This may seem like a long time ago, but 100 years ago we were facing similar challenges—a global pandemic, and a movement of disenfranchised and marginalized members of our society rising up for justice and equality. The right to vote is a powerful one and one that we must never take for granted… Continue reading here.
Teamsters ratify First Student National Master Agreement
Aug. 18, 2020 | School bus drivers and monitors employed by First Student, Inc. voted overwhelmingly to ratify their newest national master agreement with the company. The contract covers over 20,000 Teamsters at the company through March of 2021. This contract includes a number of significant improvements, including protections against the use of audio or video equipment by management to target members for discipline or discharge, additional safety obligations on the part of the company and improved transfer rights in the event that a member moves to another location. Continue reading here.
COVID-19 essential worker trash collectors want better protections
Aug. 20, 2020 | One of the positive things the COVID-19 pandemic has brought is a renewed appreciation for the solid waste workers in the U.S. They risk their health every day to keep our environment clean and preserve public health. Voice of America looks at what is needed to better protect these essential workers. Watch the video here. (Note: Local 570 has members employed at waste management company Ecology Services in Pasadena, Md., cand urrently in bargaining for a new contract. The company is not a subject in this video.)
Update from Teamster Passenger Transportation Division
Aug. 24, 2020 | As the beginning of the school year approaches, many of you probably have a lot of concerns about what's happening next. Rest assured that the Passenger Transportation Division is doing everything it can to assist you in navigating this very trying time. For those of you who are going back to school, the IBT Passenger Transportation Division has been working closely with your local union to ensure that your employer and school district do everything that they need to do to ensure your safety. In many school districts we have already negotiated… Continue reading here.
Join your fellow Teamsters in standing for justice!
Aug. 25, 2020 | The Teamsters will be reaffirming its support of racial and economic justice today, Friday, Aug. 28th, when union members participate in the 57th anniversary of the original March on Washington. The event, called the Commitment March this year, will bring thousands of Americans together to urge Congress to take action to empower people of color so they can fully participate in this democracy. Highlighted among the issues are changes to policing as well as voting rights. The Teamsters are a co-sponsor of the event being hosted by the National Action Network… Learn more here.
Groups push Governor Hogan to issue COVID-19 workplace safety rules
Aug. 28, 2020 | Labor and environmental organizations are pushing for new workplace protections in Maryland, saying current state rules aren't adequate to keep workers safe in the coronavirus pandemic. The groups want Gov. Larry Hogan to issue an executive order requiring the state labor department's occupational safety program to adopt new regulations for businesses in the pandemic. In a statement issued Wednesday, the groups said Hogan has ignored their previous calls for pandemic workplace safeguards… The Baltimore Sun
Teamsters join historic March on Washington 2020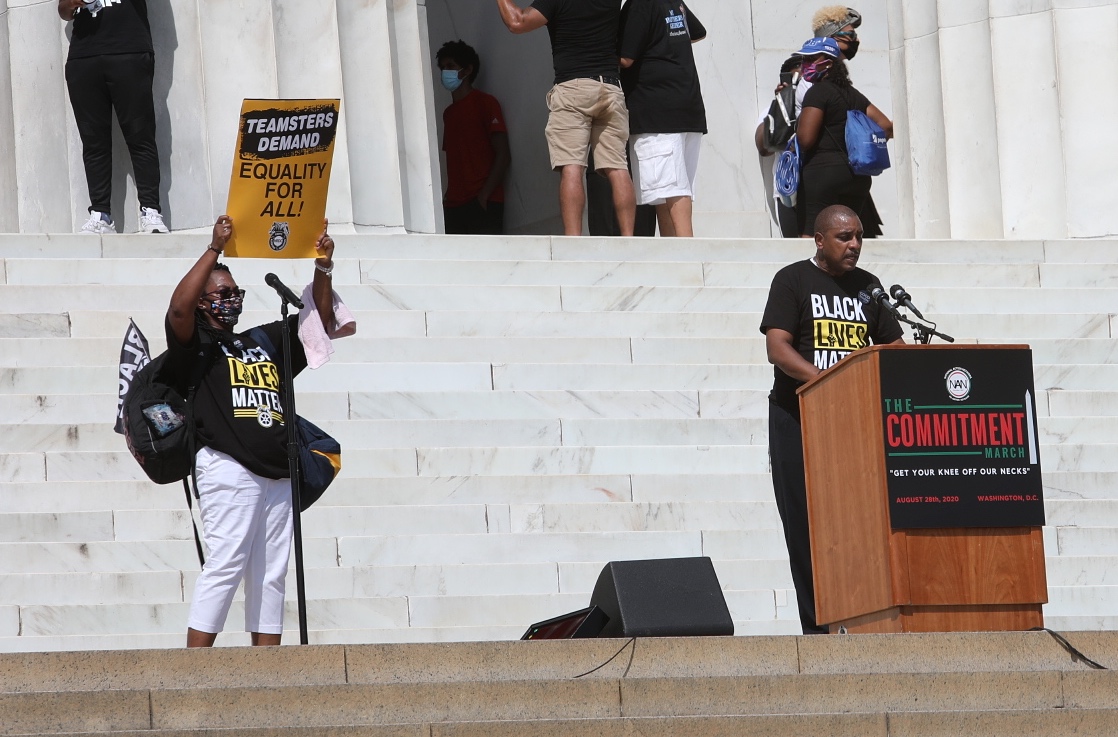 Aug. 28, 2020 | Teamsters joined the 2020 March on Washington Friday to confront the systemic racism that plagues the United States and to demand widespread change. The International Brotherhood of Teamsters co-sponsored the historic demonstration, and the union's Human Rights and Diversity Commission Director Marcus King (pictured) delivered remarks to the crowd of thousands about the importance of confronting systemic racism and economic exploitation by demanding solutions from the government and corporations. The union is fighting to dismantle racist corporate and government policies and advocating that the Senate prioritize the passage of the George Floyd Justice in Policing Act of 2020 (H.R.7120)…. Continue reading here.