Webinar June 17: How to make college more affordable
June 3, 2014 | Union Plus invites union members and union leaders to register for a free, upcoming webinar June 17 at 1pm EDT where you'll learn tips and strategies for making college more affordable, get college counseling discounts, college test prep discounts, free student loan counseling and more. Sign up here for "Learn Your Way to Earning Your Way. It's free! Check out Union Plus on Facebook too.
Enter essay contest and win cash for class!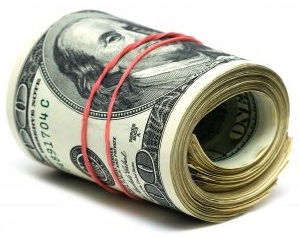 June 6, 2014 | The Teamsters annual Essay Contest has been announced for students attending college – community, 4-year institution, or technical/vocational program – who are age 23 and younger and are the children or financial dependents of eligible Teamster members. Sponsored by the James R. Hoffa Memorial Scholarship Fund, this year's Easy Contest topic is: "The vast majority of union members make more than the minimum wage. Why should Teamsters care what the minimum wage is?" The deadline for essay submission is September 30, 2014. Download the application and instructions here.
Sysco/US Foods Merger News Now Posted in New Section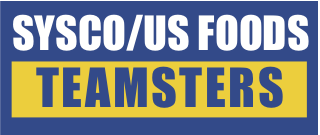 June 9, 2014 | Members employed at the two food service companies will find news as it becomes available under the Members tab, "Sysco/US Foods Merger Info," or you can click the bright green box located on the upper right column. If you don't see information there that you have read elsewhere, please email the web editor at teamstersjc62@gmail.com.
Teamsters call on House of Representatives to protect highway safety
June 10, 2014 | In a letter to U.S. House of Representatives members sent yesterday, Teamsters General President Hoffa urged them to oppose potential floor amendments that would force drivers behind the wheel longer, and allow bigger trucks on the nation's highways. "The tragic accident that claimed the life of comedian Jack McNair and injured many others including actor Tracy Morgan, could have been prevented had Walmart's driver been properly rested rather than reportedly going 24 hours without a break," Hoffa said. Read more here.
Early voting in Maryland is underway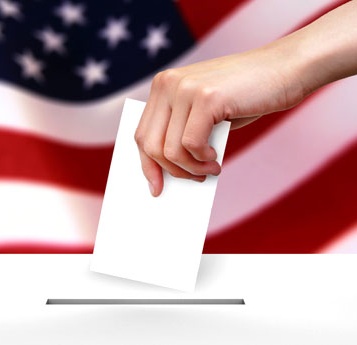 June 15, 2014 | Your first chance to cast a ballot in the 2014 election for governor and other state and county offices begins today in early primary voting that will run through June 19th. The state primary election will be on June 24th. The general election will be November 4th. As you cast your ballot, consider whether or not your choice of candidates support you and your rights on the job. Do your candidates have a proven track record of defending and improving workers' rights? Do your candidates stand with us on issues that matter to working families? Remember, your vote is your voice. Use it. For the complete list of candidates, click here. For the list of polling places throughout Maryland, click here.
Sysco denies report proposed merger will be challenged by the FTC
June 16, 2014 | Capitol Forum, a Washington, D.C.-based subscription-based firm that analyzes mergers for policymakers and investors, issued a report on Friday stating: "There appears to be a strong possibility that the FTC will challenge the Sysco/US Foods merger in the near future." Full story at Sysco/US Foods Merger News.
NLRB accuses port trucking firm of 50+ labor violations
June 20, 2014 | The federal government has accused a trucking company in Carson, Calif., of more than 50 unfair law violations, including firing drivers for union activity, relating against pro-labor employees and planting an anti-union operative amid its workforce. The company denied all the Board's allegations, stating that it has complied with federal labor laws and that the majority of the firm's drivers do not support the "heavy-handed" organizing efforts of the Teamsters Union. Full story here.
Teamsters descend on Taylor Farms, rally for food worker justice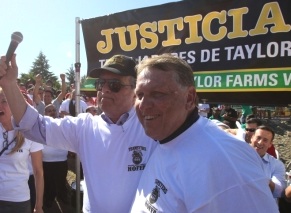 June 25, 2014 | Teamsters General President Jim Hoffa led a major rally on Thursday in support of 900 food processing workers at Taylor Farms, the largest supplier of fresh-cut produce in the world. More than 700 Teamsters, Taylor Farms workers and community supporters packed in front of a stage outside the company's plant in Tracy, Calif. where low-wage workers have been organizing against poverty pay, abusive working conditions, and extreme anti-union retaliation by the company….Taylor Farms supplies packaged salads and fruits to major retailers, food stores and restaurant chains, including Walmart and McDonalds. Full story here.
Helpful information posted every Monday for members and stewards
June 30, 2014 | Educational information that can help you better understand your union, your role in it and your responsibility to it is available in the Members Resources section under Members Only and Shop Stewards. Short helpful tips that define a contract campaign, how the bargaining process works, why – and how – a grievance is filed and presented, the importance of confidentiality issues, when a case goes to arbitration, your role in an arbitration, some cautionary notes about insubordination, are among the useful information we've made available to help you be a more informed union member. Don't forget to check in every Monday for something new you can use.