Local and National Union News
Hoffa-Hall re-elected to five-year term to lead union
Nov. 21, 2016 | Teamsters General President Jim Hoffa, General Secretary-Treasurer, International Vice Presidents At-Large, International Trustees and International Vice Presidents in the Eastern, Southern and Central Regions were elected Friday night in the 2016 Election of International Union Officers, according to unofficial results provided by the Office of the Election Supervisor. "This was a hard-fought campaign and a historically close election," Hoffa said. "Though we have many challenges before us, now is the time to join together as brothers and sisters and stand strong against those who would destroy the labor movement and deny worker's the gains that have struggled to achieve. We will continue to lead the fight to organize the unorganized, ensure strong health care, good wages, a secure retirement and holding employers and politicians accountable." Continue reading…
IBT vote count is underway
Nov. 17, 2016 | The ballots are in and the count began on Monday. To get the latest on the vote results, click here.
Your vote is your voice in the election of top Teamster officials
Nov. 10, 2016 | The secret ballot must be returned to a post office box controlled by the OES by 9am Monday, Nov. 14th. The count is scheduled to start Monday, Nov. 14th.
Construction jobs among nation's most dangerous, 2015 stats show
Nov. 1, 2016 | If you want a relatively safe job from illness and injury, don't work in a nursing home, a hospital or in construction the latest federal data show. That's because the Bureau of Labor Statistics reports those three industry sectors had the highest rates of injuries and illness last year… teamster.org
---
Older news stories can be found at Local News
| | | |
| --- | --- | --- |
| | | |
| | | |
| | | |
Dec. 1, 2016 |

JOBS

| … Here is what we know about the Carrier deal. The company had planned to close its Indianapolis plant and ship about 2,000 jobs to a new facility in Monterrey, Mexico, where it can get away with paying workers $19 a day…After the election and a call to its CEO from the new president-elect, Carrier's parent company, United Technologies, hammered out a deal…It feels like a victory to the 850 people whose jobs were saved, along with their families. And no one wants to downplay the importance of that – though it should be noted that, rather ominously, the steelworkers union that represents the plant's worker was completely shut out of the negotiations between the company and the government. Who knows if the company will later claim that the remaining workers need to take a pay cut to make the deal's numbers work?… What a deal like this does is incentivize other CEOs to threaten to offshore their companies unless the United States president offers them a specific deal to stay… salon.com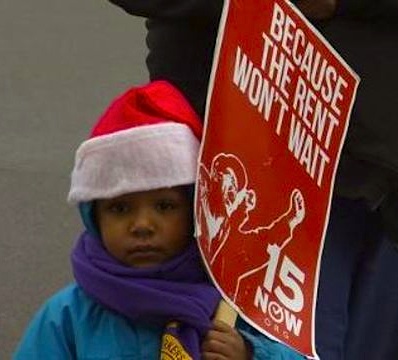 Nov. 30, 2016 |

WORKERS' RIGHTS

| Thousands of Fight for 15 supporters chanted, marched, sat in and got arrested in 340 cities across the US on Tuesday, declaring that they won't back down no matter who is in the White House. Tuesday's largest protest – the fast-food movement's 12th one-day strike – was a far cry from four Novembers ago when the Fight for 15 held its first one-day strike. That day, just 200 workers walked out in one city… theguardian.com (Note: The Fight for $15 movement has expanded to include airport workers, childcare workers, home-care aides, Uber drivers, adjunct professors, and more.) Related: Fair wage fight stretches across the U.S.
Nov. 29, 2016 |

WAGES

| Hundreds of workers at Chicago's O'Hare airport will join other low-wage service economy workers [today] as part of a nationwide "Fight for $15 Day of Disruption." The Fight for Fifteen movement has vowed to stage their "most disruptive protests yet" in 340 cities and nearly 20 major airports. Organizers say that any effort to block wage increases, gut workers' rights or healthcare, deport immigrants, or support racism or racist policies, will be met with unrelenting opposition by workers … laborradio.org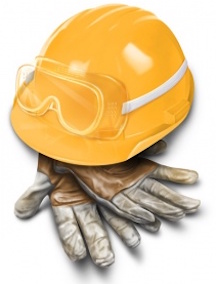 Nov. 29, 2016 |

SAFETY & HEALTH

| … We don't yet know his picks to head the Department of Labor or Occupational Safety and Health Administration (OSHA), but this reported under consideration for the Secretary of Labor have expressed opposition to Obama administration policies, such as paid family leave and requirements widely considered to increase pay equity for women and workers of color… truth-out.org
Nov. 28, 2016 |

UNIONS

| … Polling shows that most Americans still think unions play a positive role in the nation's economy. Support for unions is strongest among millennials, who, as the Bernie Sanders campaign made clear, are among the most vehement and clear-sighted critics of American capitalism. But the growing appreciation by progressives, centrists and millennials of the indispensability of unions won't deter an all-Republican government from seeking to destroy them; to the contrary, it will only encourage them to slash more deeply.… post-gazette.com