Local and National Union News
Workers at US Foods vote overwhelmingly to authorize a strike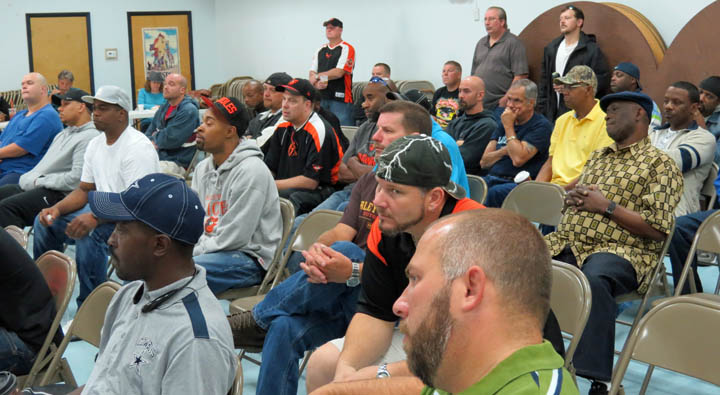 Sept. 26, 2015 | Local 570 members employed at US Foods in Severn, Md., today gave strike authorization to the Local Union leadership after Local Secretary-Treasurer Sean Cedenio gave the workers an update on the current status of negotiations and laid out the company's economic proposals which were presented Tuesday, Sept. 22nd to the bargaining committee: Wage cuts of $5 per hour, switch to a 401(k) from a union pension, switch from the Local 570 Health and Welfare plan to a company healthcare plan at a substantial cost to employees, reduction in the 7 paid holidays to 4. And that, according to the company, would just be the beginning of its demands. "This vote was necessary," said Mark Evans, shop steward and bargaining committee member after the vote. "We all have to stick together. When you've given years of your life to this company - in my case 21 years - you don't just sit down." The Local has filed two unfair labor practice (ULP) charges with the regional National Labor Relations Board. Watch this space for updates. "This vote is a good message to send to the company," Cedenio said. Last Wednesday, Local 355 drivers voted to strike.
---
Webcast Oct. 7: Domestic violence as a critical workplace issue
Oct. 5, 2015 | When domestic violence enters the workplace, it can have significant repercussions for the targeted individual and the work environment. Union stewards and fellow coworkers can all be affected by, and have a role to play in, dealing with intimate partner violence as a critical workplace issue. A free one-hour webcast on Wednesday, Oct. 7th, beginning at 12 noon will explore labor's role in addressing domestic violence in the workplace. The webcast is a joint initiative between the ILR School's Scheinman Institute of Conflict Resolution and The Worker Institute at Cornell University. Click here to learn more and register.
Hoffa says tenuous TPP agreement does not listen to workers' concerns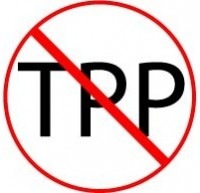 Oct. 5, 2015 | Bum trade deals like NAFTA have killed upwards of 1 million U.S. jobs, many of which moved abroad. And that's the concern with the looming TPP. These big business handouts continue to hollow out the manufacturing base of communities and destroy middle-class jobs in their wake. The Teamsters and many, many others just don't see any value in what TPP brings to this country. First and foremost is the deal won't create any new jobs here. Full statement...
Reminder for members, stewards
Oct. 5, 2015 | Every Monday we post new information under the Members Only and Shop Stewards tab in the left column. Today's educational tips offer information about the union's right to strike and the differences between the two types of strikes.
Teamsters and coalition of unions ratify agreement at American Red Cross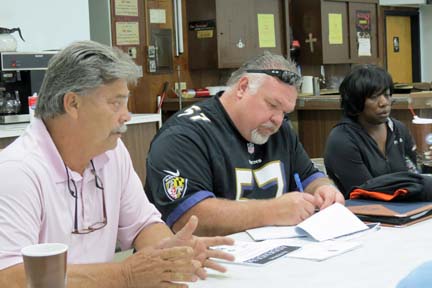 Oct. 1, 2015 | After several months of serious negotiations and a month-long balloting process, the Teamsters, as part of a union coalition, have ratified a new contract for members working at American Red Cross. The agreement will impact more than 1,300 Teamsters at 18 different local unions across the U.S., including Local 570. More... Following the September general membership meeting Local 570 Vice President Neil Dixon, left, and Trustee Joe Fowler, center, review the summary of the tentative agreement with Red Cross members before they mailed their ballots.
Reminder: First Student National Contract ratification vote
Oct. 1, 2015 | The Teamsters reached a tentative agreement with First Student. The tentative agreement has been unanimously endorsed by the Teamsters First Student National Negotiating Committee (TFSNNC) and contains numerous improvements for First Student Teamsters and their families over the next five years. A summary of the tentative agreement and ratification ballots have been mailed to members and must be returned October 20, 2015 by 10 a.m.
Battle against TPP heads to Atlanta
Sept. 30, 2015 | Trade officials involved in the negotiations of the 12-nation Trans-Pacific Partnership (TPP) may believe they are nearing the end of the process with meetings in Atlanta this week. But the Teamsters and other fair trade allies aren't going down without a fight... As the Teamsters have said before, there are just no good reason for everyday Americans to support this agreement. First and foremost is the deal won't create any new jobs here. Full story...
Increased job deaths show need to focus on workplace safety
Sept. 28, 2015 | Why do we need unions? The reasons are many, but a key statistic released last week by the Bureau of Labor Statistics (BLS) highlights an often-overlooked one – to monitor workplace safety. Too many people die at the workplace. The Labor Department reported that 4,679 workers were fatally injured on the job in 2014., up two percent from the previous year… Labor Secretary Tom Perez said the numbers are not acceptable. Continued... Shop stewards, see this week's Steward Tip.
Chefs Warehouse workers vote to join Local 570
Sept. 25, 2015 | Local 570 welcomes 27 warehouse workers employed at the Hanover, Md. speciality foods distributor, The Chefs Warehouse, who today voted in favor of Teamster representation. Details to come.
Older news stories can be found at Local News
| | | |
| --- | --- | --- |
| | | |
| | | |
| | | |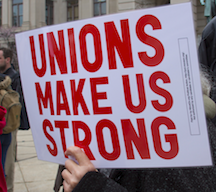 Oct. 6, 2015 |

WAR ON WORKERS

|

wepartypatriots.com

A recent article in Bloomberg Politics suggests that Wisconsin Scott Walker's exit from the presidential election is a sign that the political appeal of bashing unions has peaked. As a last ditch effort to save his campaign, Walker announced he would make sweeping, draconian changes to national labor law if elected. His polling numbers then fell below one percent and it was over. The truth is Americans view unions more favorably than in recent years. The union bogeyman is becoming a dated concept. Full story…
Oct. 5, 2015

|

TRADE AGREEMENTS

|

nytimes.com

The United States and 11 other Pacific Rim nations on Monday agreed to the largest regional trade accord in history, a potentially precedent-setting model for global commerce and worker standards that would tie together 40 percent of the world's economy, from Canada and Chile to Japan and Australia. The Trans-Pacific Partnership still faces months of debate in Congress and will inject a new flash point into both parties' presidential contests. Full story...

*

Related:

Organized labor is expected to lead a vigorous campaign to persuade and pressure lawmakers to vote against the Pacific accord.

latimes.com
Sept. 30, 2015 |

OPINION

|

cnbc.com

… Recently, Sen. Patty Murray and Rep. Bobby Scott introduced the Wage Act – a modest but important piece of legislation to strengthen protections for workers seeking to exercise their collective voice at work. Their effort to start a much-needed conversation about our outdated labor laws is to be applauded. The Wage Act will strengthen protections for workers by adding meaningful back pay remedies and penalties, requiring quick preliminary reinstatement of workers who face retaliation for exercising their rights, and other important reforms. Full story…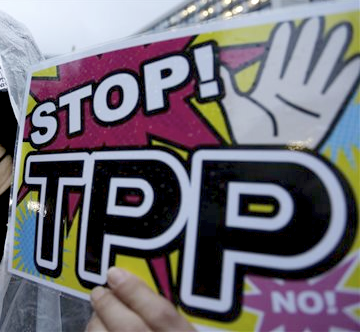 Sept. 29, 2015 |

TRADE AGREEMENTS

|

washingtonpost.com

…Even if the administration breaks impasse on several thorny issues between the TPP countries and closes a deal this week, it is unlikely that trade legislation will reach the House and Senate floors for another three to four months at the earliest… Opponents said they will renew an all-out effort to defeat the pact at a time when the nation's growing income gap has become central to the 2016 race for the White House. Full story...