Local and National Union News
Tell your member of Congress to protect our pensions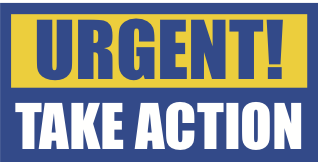 July 22, 2019 | We need your help! The Teamsters Union supports the passage of the Rehabilitation of Multiemployer Pensions Act (H.R. 397), which is headed to the full House of Representatives for debate and vote on the floor THIS WEEK! This bill is vital to protecting the pensions of hundreds of thousands of active Teamsters members and retirees across the country. This is the only legislation that would fully protect their hard-earned pension. Congress must act now to help millions of Americans facing an uncertain future as their retirement security is threatened through no fault of their own. PLEASE CALL 888-979-9806 NOW to let your own representatives in Congress know that any legislative solution must keep pensions whole for both active and retired workers. The time is now! (Note: The Warehouse Employees Local 570 Pension Fund is not affected by the multi-employer pension fund crisis but please support the Union and make the call.)
Baltimore officials issue 'Code Red' heat emergency


July 16, 2019 | The heat index is forecast to surpass 100 degrees in and around Baltimore this week, prompting city health officials to declare a "Code Red" heat emergency. High temperatures are forecast in the lower to mid-90s Tuesday through Thursday, and then could approach 100 degrees Friday and Saturday. Factoring in humidity, which is forecast to rise over the course of the week, it's expected to feel like about 100 degrees for the middle of the week and potentially close to 110 degrees Friday and Saturday… Baltimore Sun Get the Teamster facts on heat stress.
Teamsters stand in solidarity with striking Amazon workers
July 15, 2019 | Teamsters across North America stand in solidarity with the Amazon fulfillment workers striking in Minnesota. Similar to workers moving Amazon goods, many of our 1.4 million members pick and stow product in warehouses, drive trucks, and deliver packages and have fought for decades to win better working conditions, respect, and a voice on the job. This fight is ongoing. Amazon workers in Germany, Italy, Spain, Poland, France, and the United Kingdom have also engaged in numerous protests, strikes, or other activities to demand their rights and as Teamsters, we support this growing worker-led movement. Every worker deserves… Teamsters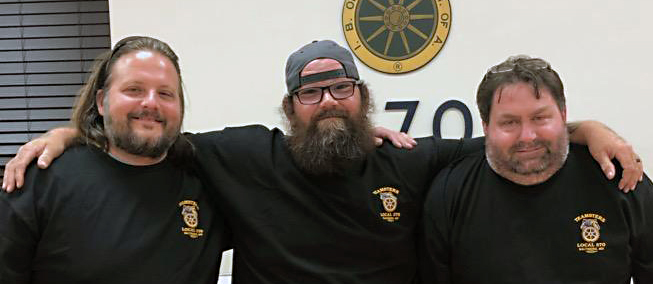 At Local 570's Open House & Cookout held June 23, 2019, two days before the successful election at Petro Home Services: (L-R)
Scott Wojechowski, organizing lead, Petro Home Services;
Arnold Miller, lead organizer and alternate shop steward, Carroll Home Services;
Alvin Mason, shop steward, Carroll Home Services.
Petro Home Services technicians chose Teamsters
July 12, 2019 | Local 570 welcomes 34 plumbers, installers and service technicians employed at Petro Home Services who voted overwhelmingly in late June to join become Teamster members. Pedro is a full service home heating oil supplier. Negotiations are underway for their first contract. (The company's fuel delivery drivers are also Local 570 members.) In other Local news, a new four-year contract covering plumbers, installers and service technicians at Carroll Home Services was ratified in June. The agreement provides substantial wage increases, enrollment in the Teamsters 570 Health Insurance Plan at no cost to members... Continue reading at Local News
Older news stories can be found at Local News
| | | |
| --- | --- | --- |
| | | |
| | | |
| | | |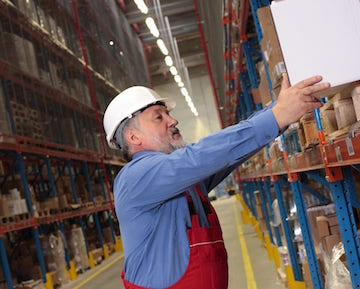 July 23, 2019

|

ECONOMY

| We see endless news articles and columns implying that the prospect of a declining number of workers supporting a growing population of retirees is some sort of crisis. The people making such assertions really need some knowledge of demographics…If simple arithmetic shows that the people shortage story is nonsense, then why does it continually appear in the media? The most obvious explanation is that the concerns over a smaller workforce fall into the well-known "it's hard to get good help" problem. This is the standard refrain of rich people, employers, and major media outlets. A smaller labor market could present employers with a world where workers have more bargaining power and can, therefore, demand wage increases that are equal to, possibly even greater than, the rate of productivity growth. As workers move from lower-paying to higher-paying – and therefore higher productivity – jobs, it will be harder to get people to work at many of the lowest-paying jobs… Truthout
July 22, 2019 |

WORKERS' RIGHTS

| Eugene Scalia has a decades-long record of challenging Labor Department and other federal regulations, as well as a famous last name. The combination proved irresistible to President Donald Trump. Trump selected Scalia Thursday to be his new labor secretary. If formally nominated and confirmed, he'll join an administration that has moved aggressively to reverse regulations…[Scalia] criticized a Clinton-era rule to protect workers from repetitive stress injuries that was ultimately repealed early in the Bush administration. He defended Boeing from a labor union lawsuit and fought on behalf of Wal-Mart against a Maryland law aimed at improving workers' health care…Northfield News
July 19, 2019 |

INCOME

INEQUALITY GAP

| Yesterday the House passed the Raise the Wage Act (H.R. 582) which would increase the federal minimum wage to $15 an hour by 2024. "Low-wage workers in much of the country have suffered through stagnant wages for more than a decade,"
said Teamsters General President Jim Hoffa in a statement.
"So the Teamsters applaud the House for taking action to help close the income inequality gap that has made it difficult for many hardworking Americans to support their families." Full statement at Teamsters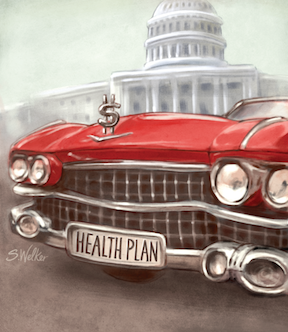 July 18, 2019 |

TAXES

| General President Jim Hoffa issued a statement today about the passage of legislation that would repeal the 40 percent excise tax on comprehensive health insurance plans included in the Affordable Care Act (ACA), commonly known as the "Cadillac Tax." "The Teamsters are pleased that Democrats and Republicans came together last night to back legislation that would eliminate this harmful tax on quality health care plans. This surcharge would only hurt working men and women who would see their premiums rise if nothing is done…" Teamsters