Local and National Union News

Local 570 stewards brush up on their skills at bi-annual seminar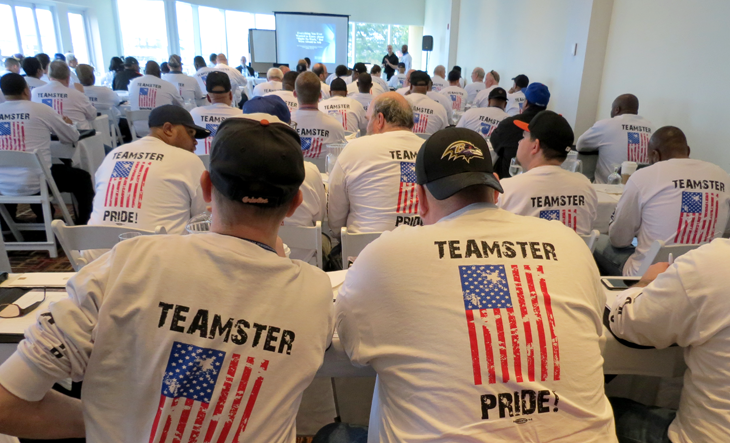 March 2017 | (Click image above to enlarge) Update: Additional photos can be viewed here and here.
Every two years the Local 570 Executive Board sponsors a training seminar for its frontline stewards and alternate stewards. More than 130 stewards are attending this year's seminar in Atlantic City, New Jersey. Top on the agenda is a frank discussion about the threat posed to American workers by the national RTW bill (H.B. 785, introduced in the U.S. House of Representatives in early February) – what it is, and what it is not. Other areas of training include the IBT's role in fighting RTW; the importance of Organized Labor's role in the continued fight to improve conditions and protections in the American workplace; workman's comp, health & welfare and pension information; and best practices of the grievance procedures. Stay tuned for more photos here, and additional coverage in the next issue of The 570 Express.
---
Teamsters launch campaign to fight back against right-to-work
Mar. 28, 2017 | The Teamsters are planning to mobilize and campaign against right-to-work laws (RTW), both on the federal level and in western states, the Southern California Teamster reports. To make sure members know how to contact their lawmakers, the paper has published the names, office suite numbers in D.C., and phone numbers of every single U.S. representative in Southern California, Hawaii, Nevada and Arizona…."For starters," the paper says, "the object is to tell lawmakers about the importance of shooting down the legislation amending the National Labor Relations Act (NLRA) and the Railway Labor Act." peoples world.org
Tell Congress to oppose the American Health Care Act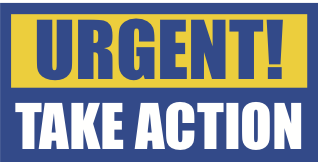 Mar. 23, 2017 | The House is planning to vote today on the American Health Care Act, the legislation to replace the Affordable Care Act (ACA). This bill would repeal all of the other taxes that were included in the ACA, except for the so-called "Cadillac Tax," which imposes a 40% excise tax on workers' health benefit plans. With repeal of these other taxes, insurers, corporations, and the wealthy get a tax cut. Hard working middle class Americans only get a delay in the "Cadillac Tax," not full repeal. Upon implementation of the "Cadillac Tax," millions of Americans and hundreds of thousands of Teamster members could see their health care benefits scaled back or dropped. We need you to call upon your representative and urge them to vote AGAINST the American Health Care Act. Take action now!
New! Apply online for Hoffa Memorial Scholarship before March 31
Mar. 13, 2017 | Sons and daughters of Teamster members can now apply online for the 2017 James R. Hoffa Memorial Scholarship. Academic scholarship awards either a $10,000 award split up over four year at $1,250 per semester, or a one-time $1,000 award. Training and Vocational scholarship awards up to $2,000, depending on financial need. (See scholarship amount details in the applications.) "We'd like to see more of our kids continue their education with the help of our Teamster scholarships," said Denis Taylor, Teamster Joint Council 62 president, and president of Local 355 in Baltimore. "The money is there, it's available for your son or your daughter. All you have to do is fill out the form and hit send. But you must do it before the March 31, 2017 deadline."
---
Older news stories can be found at Local News
| | | |
| --- | --- | --- |
| | | |
| | | |
| | | |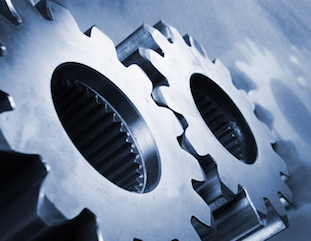 Mar. 28, 2017 |

OPINION

| There
have
been a flood of opinion pieces and news stories in recent weeks wrongly telling people that it
was not trade
that led to the loss of manufacturing jobs in recent years, but rather automation. This means that all of those people who are worried about trade deficits costing jobs are simply being silly. The promulgators of the automation story want everyone to stop talking about trade and instead focus on education, technology or whatever
other item
they can throw out as a distraction. This "automation rather than trade story" is the equivalent of global warming denialism for the well-educated. And its proponents deserve at least as much contempt as global warming deniers…

truth-out.org
Mar. 27, 2017 |

ORGANIZING

| When Californians went to the polls this (sic) November to approve the legalization of marijuana for personal use, little did they realize it would morph into a battle between unions and business. The state is no slated to begin distributing licenses to marijuana business on Jan. 1, 2018. Therefore, the Golden States's legislature is attempting to iron our discrepancies between the already existing medical marijuana rules and the approved ballot measure. The crux of the disagreement between the Teamsters union and business groups is deciding who is in charge of pot distribution… legalinsurrection.com
Mar. 23, 2017 | HEALTH & SAFETY | Congress in quick order has decided to renege on an Obama administration rule that allowed for more timely collection of data in order to track workplace injuries and illnesses. Evidently, modernizing the reporting system was a bridge too far for GOP lawmakers indebted to their corporate benefactors. Taking advantage of the rarely used Congressional Review Act, the Senate this week added its nail to the legislative coffin fist laid out by the House earlier this month. After all, why would elected officials be interested in identifying and eliminating job hazards which kill more than 4,800 workers a year and seriously injure almost three million more? teamster.org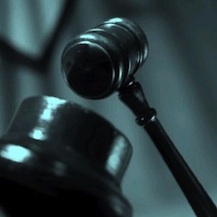 Mar. 23, 2017
|

JUSTICE

|
The U.S. Court of Appeals for the Seventh Circuit on Tuesday, March 21, protected the right of Teamsters Local 916 to collect fair share fees and dismissed a challenge brought on by the Right-to-Work Coalition. A 1977 ruling by the U.S. Supreme Court has held for 40 years that unions are entitled to charge a fair share for work performed to represent individuals who choose to become full dues-paying members. "This decision applies well-established law that employees who get all the benefits of union representation should pay their fair share of the costs of the union negotiations and representation…" teamster.org Related: Ruling will be appealed to the U.S. Supreme Court. usnews.com
Mar. 21, 2017
|

JUSTICE

|
A comma missing from a Maine state law about overtime tipped a federal appeals-court decision that will give 75 truck drivers up to $10 million in back pay. On Mar. 13, the First Circuit Court of Appeals overturned a lower-court ruling and held that drivers at the Oakhurst Dairy in Portland, Maine, were eligible for overtime pay. The case turned on the "serial comma," the comma that is sometimes inserted before the "and" in a list of items, and sometimes isn't. In this case, Maine law said workers don't have to be paid time-and-a-half for overtime if they're employed in the "canning, processing, preserving, freezing, drying, marketing, storing, packing for shipment or distribution of" perishable foods. The drivers' lawyers argued that meant the exemption applied to workers involved in "packing for shipment or distribution"; if the state had wanted to exempt drivers as well as packers, the law would have read "storing, packing for shipment, or distribution." "That comma would have sunk our ship…" nytimes.com