With Toyota 34 years, Doug Slusher retires
July 24, 2017
Continued from Main Page | Slusher joined Local 570 in September of 1970 when he landed a warehouse job with Acme Markets, a distribution warehouse for Baltimore-area grocery stores.
But after 13 years Acme shuttered the district warehouse, leaving Slusher out of a job. "I was fortunate because I wasn't out of work very long, maybe a few months," said Slusher. "My Acme shop steward, Donald Griffin, had a son working at Toyota. Donald told his son, Mike, that I was a good worker, dependable, a family man, and would he put in a good word for me at Toyota? I'm so very grateful to father and son. I got the job at Toyota, and I spent a great 34 years with the company. Heck, Mike Griffin still works there."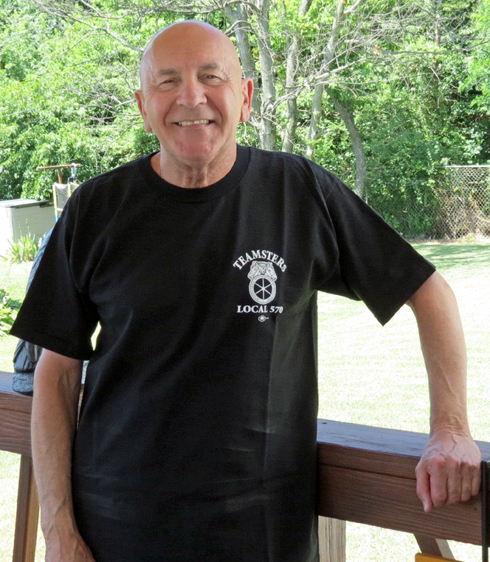 Slusher said he is grateful for the Teamsters, too. Understanding how important being a union member is to his working conditions and economic well-being, Slusher said he never missed a contract proposals meeting. "That is the most important meeting a member can attend. I mean, that's your livelihood – it's the time when you get to understand how very grateful you should be for the union."
"But the union is only as strong as its members. The companies try to divide us, and when union members are divided, they can't stay unified and strong. It's sad really."
Slusher calls his years at Toyota good years. "We've won good pay and benefits. I tell the younger members, your medical benefits are the most important thing you'll ever have. All the many years we fought to get them – and keep them, they may not understand because that history is behind them. They have no memory of the history. But they need to learn what it took the members before them to get the benefits they now enjoy. And we have to tell them.
When asked if he missed the work yet, Slusher said not in the least. "I've been on a schedule for 47 years: waking up at 4:30 am every morning, packing lunches, going to bed early every night. I'm done with that! Now I'm able to sit on my deck with Darlene, some cold beers and listen to the ballgame, or even some music. "
A life-long Baltimore Orioles and proud grandfather of two, he and Darlene are surrounded by family portraits and snapshots – they have two daughters and a son who is deceased, and four grandchildren – and dozens of baseball bobblehead dolls all neatly displayed in their cabinet. They don't have any immediate plans for travel. "I don't have to fly around the country. I just enjoy my home and my family."
Wearing an enormous, satisfied smile, Slusher said, "Whatever we feel like doing, we'll just do it!"