News Items - January 2017
Cool labor book: 'A People's History of the United States'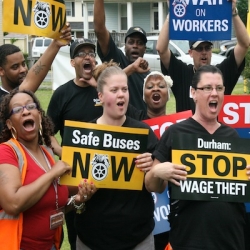 Jan. 3, 2017 | If your last serious read of American history was in high school – or even in a standard college course – you'll want to read this amazing account of America as seen through the eyes of its working people, women and minorities. Howard Zinn (1922-2010) was a widely respected historian, author, playwright, and social activist. In A People's History of the United States: 1492-Present, he turns history on its head with his carefully researched and dramatic recounting of America and its people – not just its bankers, industrialists, generals and politicians. This book will give you a whole new way of looking at and understanding the world around you. Order it at Union Communication Services.
Trucker deaths top all others in the workforce
Jan. 6, 2017 | The Teamsters for years have been front-and-center in the fight for ensuring proper rest breaks for truckers. A new government report shows why that effort is so very important. A National Census of Fatal Occupational Injuries for 2015 found that heavy and tractor-trailer truck drivers recorded 745 fatal injuries, the most of any occupation… teamster.org
University of California Teamsters go on strike for fair wages, pensions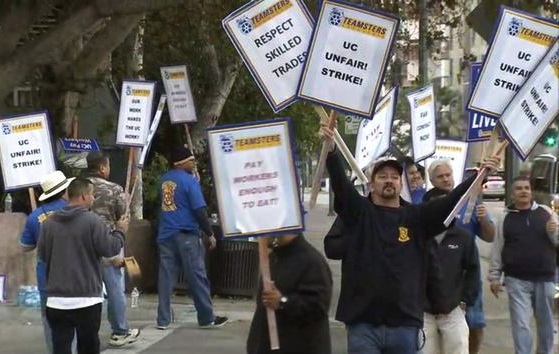 Jan. 10, 2017 | Today, thousands of University of California (UC) administrative, clerical and support workers are on strike across the Golden State, taking a stand against a UC system that has turned its back on them by not paying them a wage that allows them to support themselves and their families. More than 12,000 workers, members of 2010, walked off the job Tuesday to protest the numerous unfair practices and violations of state law committed by UC… huffingtonpost.com
Contract negotiations update
Jan. 11, 2017 | TransDev members approved a three-year agreement that maintains health and welfare benefits, and provides for a two percent company contribution to an employee's account whether or not the employee makes contributions. Members who distribute and store oil and gas products at Sunoco… Continued
Hoffa: Withdrawal from the TPP the right choice for U.S. trade policy
Jan. 24, 2017 | [Yesterday], President Trump made good on his campaign promise to withdraw the United State from the Trans-Pacific Partnership. With his decision, the president has taken the first step toward fixing 30 years of bad trade policies that have cost working Americans millions of good-paying jobs… teamster.org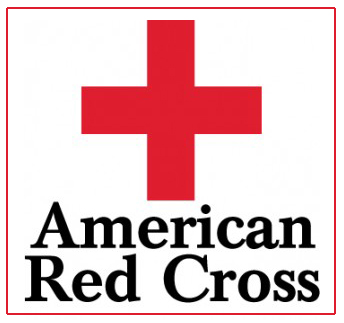 Hoffa addresses Red Cross meeting
Jan. 30, 2017 | Teamsters General President Jim Hoffa addressed 100 attendees, who gathered in Washington, DC at the Red Cross headquarters on January 24, to review the progress that has been made since 2014 and the challenges ahead. "We all know the story of the unions and the Red Cross and hopefully our battles are behind us," Hoffa said. "We have turned a corner and we now have in pace a national addendum covering 4,000 unionized workers across the country. This was a big accomplishment. Our members are committed to supporting this great institution and we are proud to represent them." Today, 20 Teamster Locals is 13 states [including Local 570] provide effective workplace representation to workers who collect blood from donors and transport lifesaving products to hospitals and Red Cross facilities around the country… Read more at teamster.org
President Hoffa interview with Fox News host Neil Cavuto *
Jan. 27, 2017 | On Wednesday, Hoffa discussed jobs, trade, infrastructure investment and minimum wage increases on Fox News. Watch the interview here. * On Friday, Hoffa appeared on CNBC's Closing Bell.
Teamsters add gender identity to non-discrimination policy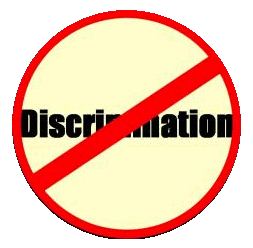 Jan. 27, 2017 | The IBT instructed its locals across the United Stated to update their bylaws this year, declaring that members can no longer discriminate against a fellow worker based on mental disability or gender identity. Members of the union took an oath under the old laws that had them swear to not "discriminate against a fellow worker on account of race, color, religion, sex, age, physical ability, national origin or sexual orientation." The addendum to the bylaws, which went into effect on January 1, now says that workers can't discriminate against "any other legally protected group" either. .. newnownext.com

Negotiations for new contract underway at Pepsi
Jan. 25, 2017 | The Union's bargaining team is meeting this week with Pepsi representatives in Baltimore to hammer out a new collective bargaining agreement that will cover Local 570 members at the White Marsh and Columbia, Md. plants. Pepsi workers are currently covered under separate contracts. The large committee is comprised of stewards from both locations. Photo (L-R, seated): Richard Taylor/Columbia; Local 570 Principle Officer and Chief Negotiator Sean Cedenio; Local 570 President and Business Agent Rich Brown; Sidney Beatty/Columbia; Wayne Waddle/Columbia; Jeff Allen/Columbia. (L-R, standing): Sean Dotlin/Columbia; Curtis Jett/Columbia; Dan Poreca/Columbia; Local 570 Office Secretary Dawn Wagner; Butch Heavel/White Marsh; David Arroro/Columbia; James Testerman/Columbia; Kendall Johnson/Columbia; Dennis Thomas/White Marsh; and Nick Tyson/Columbia.