Teamster Local 311 to merge with 570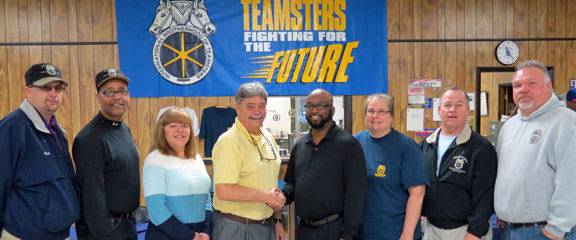 Executive board members of Local 311 and Local 570 following the merger vote. (L-R) LU 570 Vice President Richard Brown, LU 570 Organizer and Trustee Moses Jackson, LU 311 President Penelope Arhar, LU 311 Secretary-Treasurer/Principle Officer Neil Dixon, LU 570 Secretary-Treasurer/Principle Officer Sean Cedenio, LU 311Trustee Donna Carr, LU 570 President Ray Valentine, and LU 311 Recording Secretary Joe Fowler.
Local 311 members overwhelmingly approve merger
March 30, 2015 | At a special meeting held Sunday, March 29, 2015, Teamsters Local 311 members approved an executive board proposal to merge into Teamsters Local 570, also in Baltimore.
The decision to seek a merger partner was not driven by financial need but rather from a long-held commitment to building our Teamster membership to ensure our strength and power, Principle Officer Neil Dixon told his members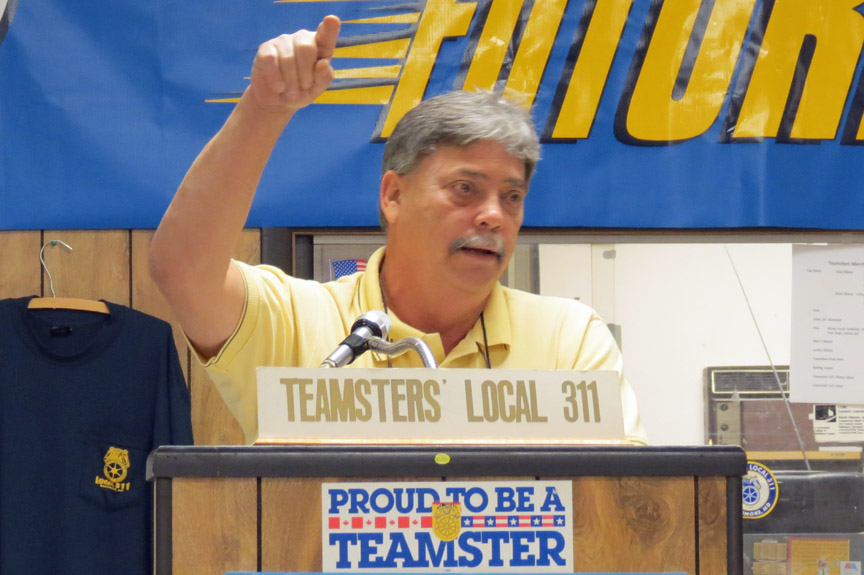 "We are being proactive," Dixon told members. "Together with 570, we'll be more than 3,400 Teamsters strong. Yes, we have the funds to continue on alone but we've lost members in recent years and when a Local loses members, it loses some of its strength. This is really all about building our strength by increasing our numbers. We'll increase our charter, increase Local 570s' charter and this merger will give us wider opportunities to organize and grow our union which will help build our power."
Merger discussions began a year ago between the Locals' principle officers. Unlike other local union mergers that come about due to financial pressures, Local 311 is financially sound. But in the years since the Great Recession began in 2007, Local 311 has experienced a decrease in its membership, either as a result of Local 311 companies who close or changes in the industries employes by Local 311 members.
Local 570 Principle Officer Sean Cedenio and members of LU 570's executive board attended the meeting. In his comments, Cedenio said, "Our strength is always in our numbers. When our numbers decline, we become weaker. And if we don't organize, we die. With an organizer on staff, Local 570 is building its membership. With this merger we will continue to build our union and together, we will build our power."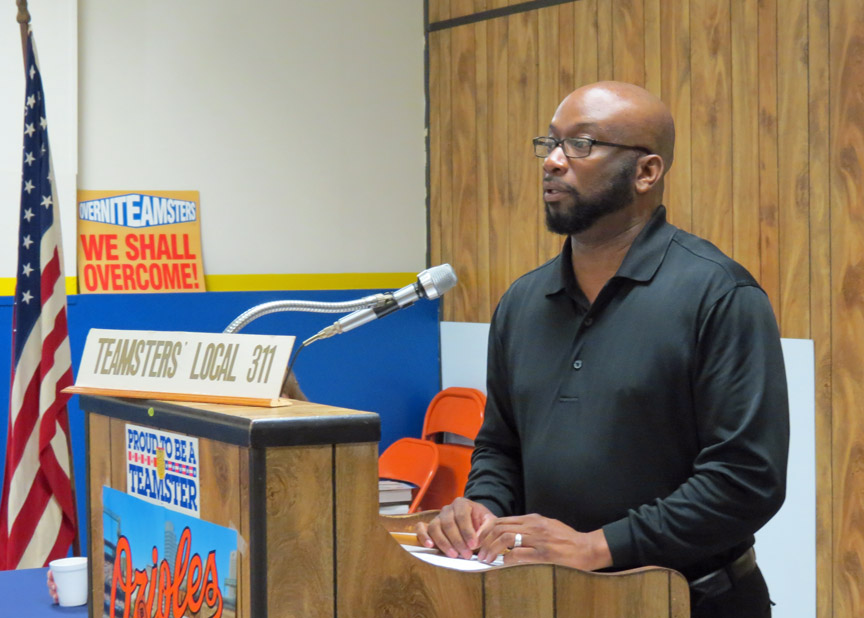 A secret ballot was conducted after the Q & A session during which members asked questions on a variety of issues, including how the health & welfare and pension plans will be administered going forward, seniority (by industry), the time frame for the merger's completion, and what the integration of the locals' executive boards will look like.
"This is a historic move that will increase the Locals' stability," said Dixon after the vote. "Mergers like this are the wave of the future. You know that companies do it every day. Well, we need to merge too. I've thought about this merger for months and I can't think of anything that's not good about it. Because the truth is, it's all about representing our members. And that is what we are all about."
The merger is scheduled to be completed by July 1, 2015. You can learn more about Local 311 here.
Additional photos can be viewed in the Local 311 Photo Gallery.