Contract Talks Continue With Merchants Terminal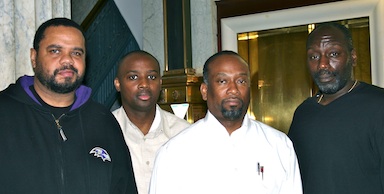 FEB. 17, 2012 | Negotiations continue for a successor agreement for shipping and receiving workers at Merchant Terminal (MTC Logistics). The collective bargaining agreement expired Feb. 10, 2011, but the parties have agreed to continue negotiations under an extension agreement good until Feb.27, 2012. Pictured is 570's bargaining committee: (L-R) Joe Holmes, Dexter Harrison, Secretary-Treasurer Sean Cedenio, and Reginald Robinson.
* Update: A new contract was overwhelmingly approved March 14 by MTC members. Congratulations to the hard work of the entire bargaining committee for making it happen. Details in the next issue of the Local newsletter.