Local 570 Members Deliver Petition Calling For Fair Contract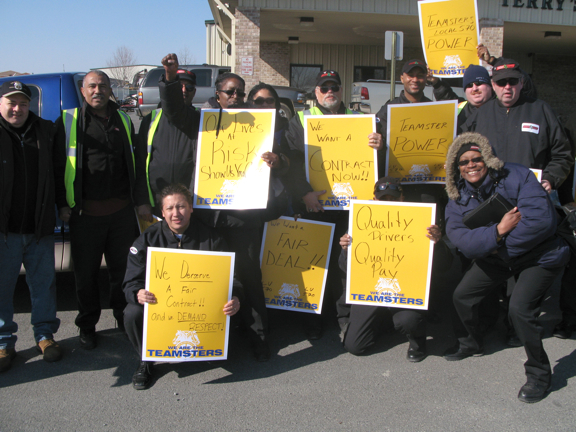 After fifteen months of protracted negotiations with Veolia Transportation in Loudoun County, Virginia, dozens of Local Union 570 drivers and various community and church leaders marched on the boss Wednesday in Purcellville, VA to deliver a petition demanding a fair deal for the workers. The petition was signed by a supermajority of the workers. The solidarity action by angry members ratchets up the Union's pressure on the company to end its stalling tactics, and bargain a new contract that will give them a fair deal.
Local 570 represents 78 Veolia Transportation drivers and mechanics. A French multinational corporation, Veolia Transportation - one of the most profitable transportation conglomerates in the world - manages Loudoun County transit services.
"We are struggling to make car payments, pay our rent, and this is unfair," said driver Alvaro Urquidi. "Everyone thinks we are making more money, but we're not. We are not asking for much, just a little bit of fairness."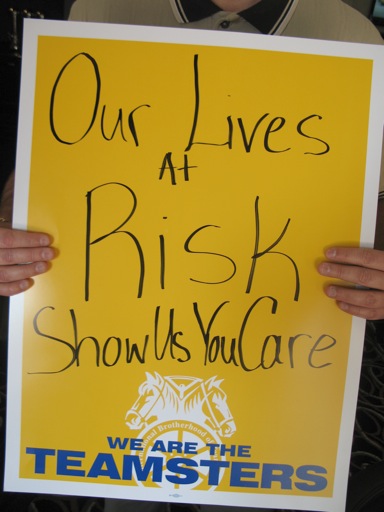 The union and the company remain apart over wages and health insurance contribution costs. Members are looking for a return to the 2009 pay scale with moderate rate increases over 2 years. The company is proposing a 4-year contract with a flat rate increase which means it would take an employee seven or eight years to reach a top rate of pay, rather than four years.
Responding to circulated rumors of a pending strike, LU 570 Secretary-Treasurer Sean Cedenio said, "It is our job to try to negotiate a deal with the company that is fair to both sides. The last thing that anybody wants is a strike. We do not want to inconvenience the riding public, and we want to be sure that we act responsibly. At the same time, what's on the table from the company is unacceptable."
In November 2009 Local 570 agreed to a 13-month contract extension which expired Jan. 31, 2011. The union agreed to an extension that expired February 14 and a new one is set to expire March 3, with talks set for Feb. 28 and March 1.
Wednesday's unity action got results: Late Wednesday, Local 570 negotiators received word that the company is ready to go back to the table - next Tuesday, February 22.
It's time for respect!
It's time for a new contract!
Check out the media coverage of Wednesday's solidarity action here, here, and here.
IBT's press release is here.
Download our Teamsters Take Action! flyer here.
Check back with us for updates.