LOC
From Your Organizing Committee
To: Our Brothers and Sisters at LOC
SOME THINGS YOU SHOULD KNOW
Recently, the company held a number of meetings and distributed some misleading handouts aimed at combating the growing campaign to organize a union here at the Laurel Operations Center. We, the members of the in-plant organizing committee that initiated this effort, want to counter the false claims.
1. Union begins with us
This is not an effort to bring a "third party" into the plant. We want to unionize so that we ourselves are organized. We need our own independent voice on the job with representation that we elect and that is responsible to us.
2. Why we're doing this
For five years, Nestle hasn't bothered to offer raises that would keep pace with the rising cost of living and as a result we have all seen our earnings diminish.
⇒ The company instituted the new pay structure, reducing the categories to qualified and fully-qualified, which was a pay cut for the new hires and others since the opportunities for earning higher pay by gaining additional skills were eliminated.
⇒ Nestle imposed a 12-hour shift structure and many workers with decades of service to the company have left due to the physical toll to their bodies as a result of the longer hours. It has refused to schedule shifts with enough lead-time to allow us to plan time off to spend with our family and friends, or take classes, etc.
⇒ The company talks about workplace safety, yet working back-to-back shifts that increase repetitive motion injuries, and starting and ending a shift in the middle of the night are not considered safety issues.
⇒ As part of the imposition of 12-hour shifts, management reduced the number of workers on many lines. In fact, it has sped up production aimed at making us work more and work harder for less money. Also, as part of the new shift structure, Sunday premium has been eliminated, and the amount of overtime currently being offered has been significantly reduced.
⇒ When an employee (even a temporary employee) speaks up about the working conditions, they are targeted and then fired. Nestle management has disciplined and promoted workers in a completely arbitrary manner. Those they label "sharks" get treated one way, while the so-called "dolphins" are treated differently.
⇒ In five years, Nestle hasn't even bothered to provide the workforce with an employee handbook.
So now, for the first time in five years, the company is promising a (paltry) three percent wage increase. Bigger bonuses are coming. There's talk of dumping the "qualified" and "fully qualified" system. Suggestion boxes are going up. There's an open-door policy and a new employee handbook.
Why now? Because we are starting to get organized!
3. What we need to do
The key for us now is for everyone to get on board and sign an authorization card (click here). And by the way, the card does not require that you to provide your Social Security number, as you have been misled to believe. You can also sign up for the organizing committee.
Let's build a real union at this plant. We don't need to be treated like and compared to animals or sea creatures. We can come to work each day and demand dignity and respect from our employer – but only if we all stand together!
---
---
HOW THE PROCESS WORKS
Step 1: The Authorization Card
Signing an authorization card enables the Local Union to file a petition for an election at the National Labor Relations Board. All cards are kept confidential and management does not get to see them.
Step 2: The Election
The National Labor Relations Board sends a representative to hold a secret ballot election. You will be allowed to vote during work hours. Neither the Company nor the Union will know how you voted. We will need 51% to win the election.
Step 3: The Contract
After winning the election, a meeting is scheduled for all employees who will be covered by the contract. At the meeting your input will be needed as to what you want in your contract. During this meeting you will also elect a group of people that you work with who will be part of the committee that will help the Union negotiate the contract. After the committee and the Union have meetings with the Company to negotiate the best contract they can, another meeting will be scheduled so you and your co-workers can vote on the contract.
No initiation fee will be paid by anyone currently working at Nestle Ice Cream. Dues will not be paid until you and your co-workers accept a contract that you vote on. Dues are not retroactive.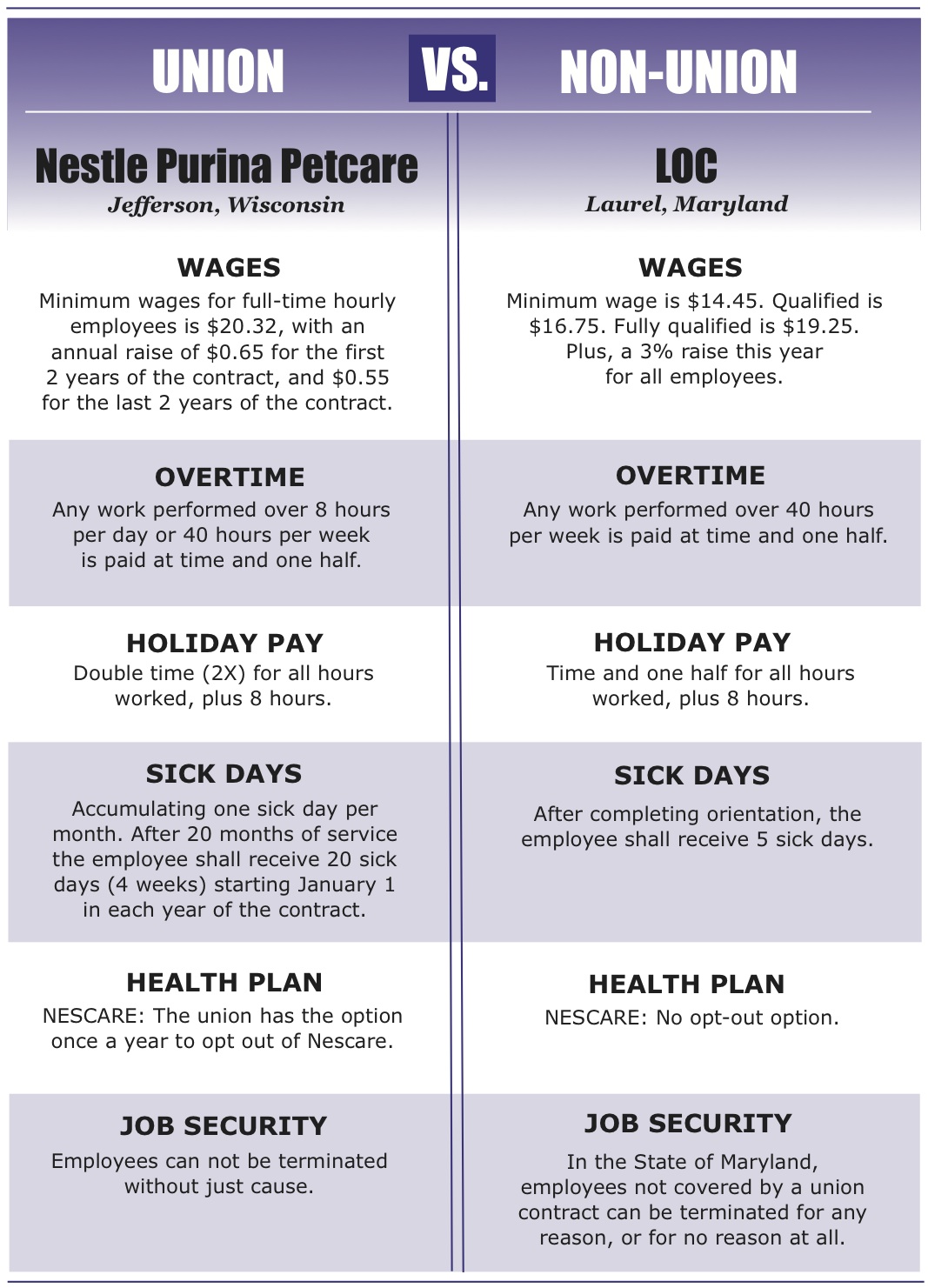 Teamster Local 570
6910 Eastern Avenue, Baltimore, MD 21224
Phone: 410-284-5081
Email: team570@comcast.net
Website: www.team570.org
Page Last Updated: Mar 13, 2014 (07:47:00)