News Items - February 2019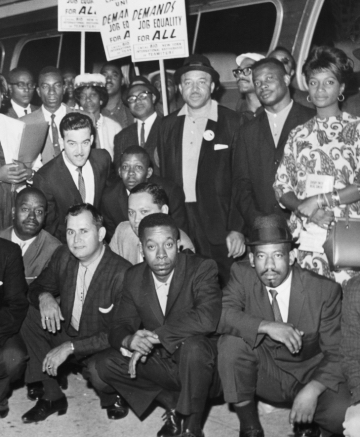 Teamsters celebrate Black History Month
Feb. 1, 2019 | Since 1903, the Teamsters Union has been at the forefront of the struggle for workers' rights in North America. During Black History Month, Teamsters honor the contributions of African-Americans in our nation's history and their important place in the union today. Early on in the union's history, Teamsters advocated for "no color lines" within the labor movement and would not hold with the practice of separate unions for black members. Women and minorities were part of the membership from the beginning, with black Teamsters attending at the founding convention. Teamster contracts included provisions for equal pay as early as 1917. That year, the union won a clause in a contract for women laundry workers that employees would be paid the same regardless of race. Over the years, the Teamsters Union has... Read more
Teamsters applaud introduction of legislation to protect transit workers
Feb. 13, 2019 | The Teamsters support bipartisan legislation that would authorize funding for programs to establish training and technology improvements to help mitigate assaults against transit workers. "All transit workers deserve a safe workplace," said General President Jim Hoffa. "Whether they drive a bus or work on the rails, these men and women should have the training and technology to help prevent any harm from an assault on the job…" Learn more here.
Teamsters JC 16 statement on Amazon canceling H2 New York plans
Feb. 15, 2019 | George Miranda, President of Teamsters Joint Council 16, had the following statement on Amazon's announcement that it is pulling out of plans to build its second headquarters in Long Island City, NY: "New Yorkers made it clear that Amazon wasn't welcome in our city if it would not respect our workers and our communities. Apparently, the company decided that was too much to ask. We are committed to fighting for the rights of workers throughout the Amazon supply chain and supporting their demand for a voice on the job." Teamsters Related: Amazon's decision to pull out of New York is a massive blow to corporate welfare and, activists and lawmakers also raised concerns over Amazon's labor practices and its anti-union track record.
Minimum wage increase advances in Md. General Assembly
Feb. 26, 2019 | Maryland lawmakers are advancing a bill that gradually increases the minimum wage to $15 per hour but does it at a slower rate that advocates had hoped for. Under the version of the bill approved Monday night by a key House of Delegates committee, the minimum wage would increase from the current $10.10 per hour starting next year and hitting $15 in 2025… The Baltimore Sun