Teamsters, 8 other unions stand united for a contract with ARC
July 6, 2018 | Local 570 Red Cross workers have joined their coworkers across the nation in a fight for a fair contract that works for everyone. They're paying close attention to negotiations, taking action and showing American Red Cross that they care about the outcome.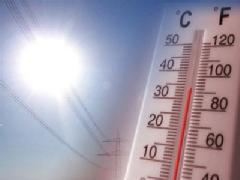 Water. Rest. Shade.
July 2, 2018 | The National Weather Service has issued an excessive heat warning for our area today, and a heat advisory through July 3 at 8 pm. Heat illness can be deadly. If you work outside you need to protect yourself: Drink water often. Rest in the shade. Report heat symptoms: Dizziness, headache, sweaty skin, fast heart beat, nausea, vomiting, weakness and cramping are symptoms of heat exhaustion. Symptoms of heat stroke are red, hot and dry skin, high body temperature, confusion, fainting, convulsions. Both types of heat illness require emergency care. Check out OSHA's website for additional information and advice about the hazards of working in hot weather.
Hoffa: Teamsters support Spain's striking Amazon workers
July 18, 2018 | In a letter expressing solidarity to striking Amazon workers at the San Fernando de Henares logistics center, General President wrote in part, "The growth of Amazon is impacting so many of the industries in which Teamsters work and is changing the way people work and life across the globe." Thousands of Amazon workers in Spain and Germany struck for during a three-day period, July 16 - 18, and workers in Poland staged a work-to-rule during Amazon's Prime Day promotion. The workers are demanding labor contracts that guarantee healthy working conditions at fulfillment centers, according to nbcnews.com