News Items - February 2018
Child care tax credit increase for working parents proposed in Maryland
Feb. 5, 2018 | For the first time in more than 15 years, the little-known child care subsidy is getting election-year attention from politicians in Annapolis. A proposal introduced last month would extend access to a child care tax credit to families that earn $150,000 a year, up from the current cap of $50,000, set in 2001…The proposal to increase the subsidy voucher has strong support in the state Senate, where 32 senators have sponsored the measure — eight more than required for passage… Baltimore Sun


Joint Council 62 Executive Board: (L-R) Trustee Lawrence Geho (President, Local 888); Vice President Sean Cedenio (Secretary-Treasurer/Principal Officer, Local 570); Trustee Tom Krause (Secretary-Treasurer/Principal Officer, Local 992); Secretary-Treasurer Larry Wolfe (President, Local 453); President Denis Taylor (President, Local 355); Recording Secretary Dave White (Secretary-Treasurer, Local 355); Trustee Richard Brown (President, Local 570)
Joint Council 62 officers, trustees elected to another term
Feb. 6, 2018 | In January Joint Council 62 held nominations for its 2018-2021 term. Local 355 Vice President Bill Alexander conducted the nominations. The incumbents were nominated and unanimously re-elected. The Council, comprised of Teamster leaders from around our region, allows participating Locals to pool resources to address issues of common interest and coordinate bargaining and organizing efforts. Teamster Joint Council 62 is comprised of Local Union 355 (Baltimore), Local Union 453 (Cumberland), Local Union 570 (Baltimore), Local Union 888 (Baltimore Sun), and Local Union 992 (Hagerstown). Pictured (L-R) Trustee Lawrence Geho (President, Local 888); Secretary-Treasurer Sean Cedenio (Secretary-Treasurer/Principle Officer, Local 570); Trustee Tom Krause (Secretary-Treasurer/Principle Officer, Local 992); Vice President Larry Wolfe (President, Local 453); President Denis Taylor (President, Local 355); Recording Secretary Dave White (Secretary-Treasurer, Local 355); Trustee Richard Brown (President, Local 570).
Teamsters say death of San Francisco waste worker exposes dangers of job
Feb. 16, 2018 | A Teamster and 24-year driver at waste provider Ecology, died late last week in a collision while delivering a garbage compactor Zuckerberg San Francisco General Hospital. Teamsters Solid Waste & Recycling Director Ron Herrera said in a statement, in part, "While Jeremy's death was an accident, waste workers face life threatening situations every single day. Waste corporations regularly push drivers to work 10 to 14 hour shifts, often using dangerous, poorly maintained equipment and vehicles…" Read more at Teamsters
'Day of Action' set to bring workers together to support their unions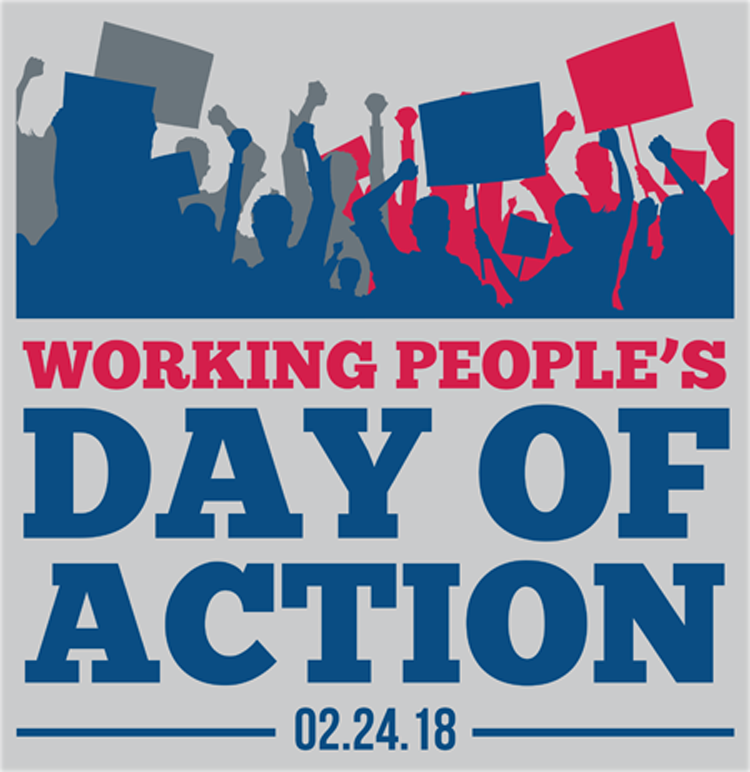 Feb. 22, 2018 | Workers all across the country will come together in cities from coast-to-coast Saturday to urge lawmakers to stand up to big business bullies dumping dollars into an effort to tamp down on the collective bargaining rights of those on the job. As part of the Working People's Day of Action, attendees will challenge the latest attack on laborers that will come before the U.S. Supreme Court on Feb. 26, when oral arguments will be heard for Janus v. AFSCME. The court will decide whether non-union public sector workers should continue to contribute fees to cover workplace representation they receive from unions like the Teamsters. Read more at Teamsters. To find out more and locate the nearest gathering, click here.
Md. small brewers squaring off in Annapolis with alcohol industry
Feb. 22, 2018 | Calling state lawmakers "ham-handed," "subservient" idiots is not a typical recipe for passing proposed legislation in the Maryland General Assembly. But that's how Comptroller Peter Franchot has characterized lawmakers whose support he will be seeking Friday for a bill he says will give small craft beer makers a better chance to compete against what he has called the "corporate beer monopoly." The comptroller says he is fighting for the up-and-coming small craft beer business while the General Assembly is supporting a traditional alcohol industry dating back nearly a century… Baltimore Sun