Teamsters tell Big Pharma shareholders: Vote no on boss' bonus
July 12, 2017 | The Teamsters are trying to punish Big Pharma for flooding the country with prescription pain killers by hitting one of its top leaders where it hurts – in the eyes of shareholders. The union has taken the unusual step of directly calling on McKesson Corp. shareholders to turn thumbs down on July 26 to the $1.1 million bonus that was awarded earlier this year to its Chief Executive… nbcnews.com Related: Teamsters urge McKesson shareholders to reject CEO pay plan amid opioid probe. (Why this issue matters to our union.)
Solid waste workers in CA win union after 10-year fight
July 13, 2017 | A Teamsters win after a decade-long effort by waste workers in Santa Ros, Calif., highlighted a spate of union victories that produced a total of at least 950 members. But the victory in Santa Rosa at the Ratto Group, a non-union firm that low-balled its pay scales and paid scant attention to safety, was especially meaningful, as Ratto was undercutting other, unionized, solid waste hauler workers… peoplesworld.org
Clare Rose, Teamsters have TA after weeks of strike
July 17, 2017 | Clare Rose and its 130 delivery drivers and warehouse workers have negotiated a new contract, ending a nearly three-month strike against East Yaphank beer distributor, company and union officials said. The deal restores pension contributions for workers but remove a sales function that had been responsible for part of drivers' pay. Ed Weber, president of Local 812,said in a statement the union was pleased to reach and agreement "that preserved our pension and provides fair wages under a new sales model." … newsday.com
President Hoffa on Mornings with Maria: We have to get jobs back
July 20, 2017 | Teamsters General President Jim Hoffa said in a Fox Business News interview yesterday that the interests of workers must not be forgotten as the administration begins to renegotiate NAFTA. Watch here.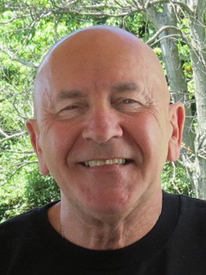 Doug Slusher, 34-year veteran at Toyota, retires
July 24, 2017 | "For the first time in my entire adult life, I can watch the playoffs and World Series games," Orioles fan and long-time Teamster, Doug Slusher, told us when we visited he and his wife, Darlene, in June. "I have never been able to watch a whole game because either I had to go to work or go to bed so I wouldn't be late for work the next morning. Slusher had just retired after 47 years working for Local 570 companies when we caught up with him at his trim and tidy raised-ranch home in Glen Burnie, Maryland... Continue reading.
Excessive CEO pay fight takes new turn
July 26, 2017 | The fight against excessive CEO pay is a fight the Teamsters know well. For years, the union has decried the disproportionate pay between those at the top of the corporate structure and those who actually do the work that makes the firm profitable. But it has taken on added meaning recently as one of the nation's richest CEOs continues to collect substantial payment while his company gets punished by the U.S. Justice Department for the role the company played in failing to report suspicious opioid orders... teamster.org Related: Seventy top health care CEOs raked in $9.8 billion since 2010
Teamsters support bipartisan effort in Senate to repeal Cadillac tax
July 31, 2017 | Currently, the excise tax, commonly referred to as the Cadillac Tax, places a 40 percent tax on high-quality health care plans. This tax will only hurt working men and women who will see their premiums rise as costs are passed down the line. "Senators on both sides of the aisle are doing the right thing and fighting to repeal this harmful tax on good health care plans," General President Jim Hoffa said. teamster.org
Drivers, warehouse workers at Bond Distributing ratify 3-year contract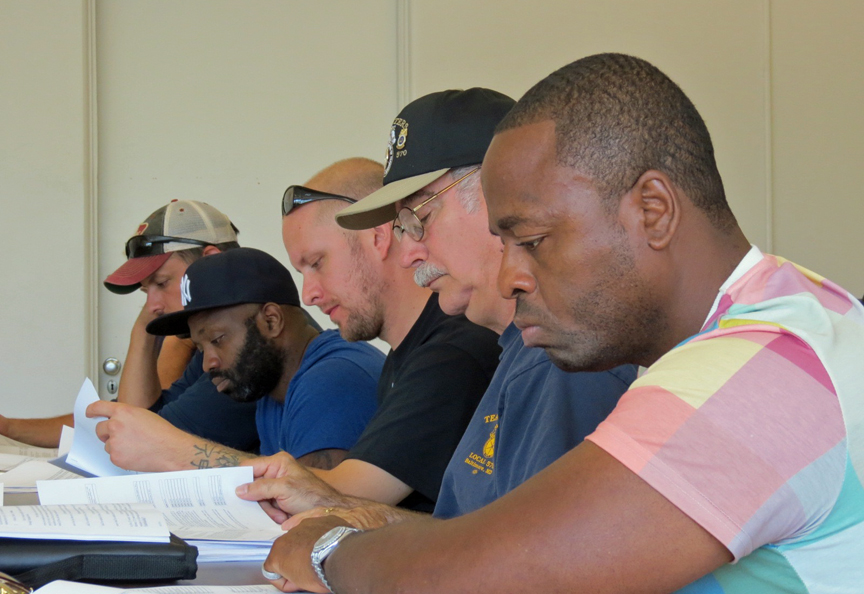 July 31, 2017 | Members employed at wholesale beer distributor, Bond Distributing Company, approved on Sunday a three-year collective bargaining agreement that provides retroactive pay back to the contract expiration date, increases in hourly wages and commissions, and preserves Health & Welfare. The very tough negotiations tested the determination of the warehouse workers and drivers on the committee, and the patience of the members but in the end, everyone stood strong together. "We're union, and that is what being union is all about," said delivery driver and committee member, Anthony Chillemi. "This [negotiating] committee is a strong group," said Principal Officer Sean Cedenio. "It did a great job pushing back against initial employer demands to rip up the contract and start over. The result of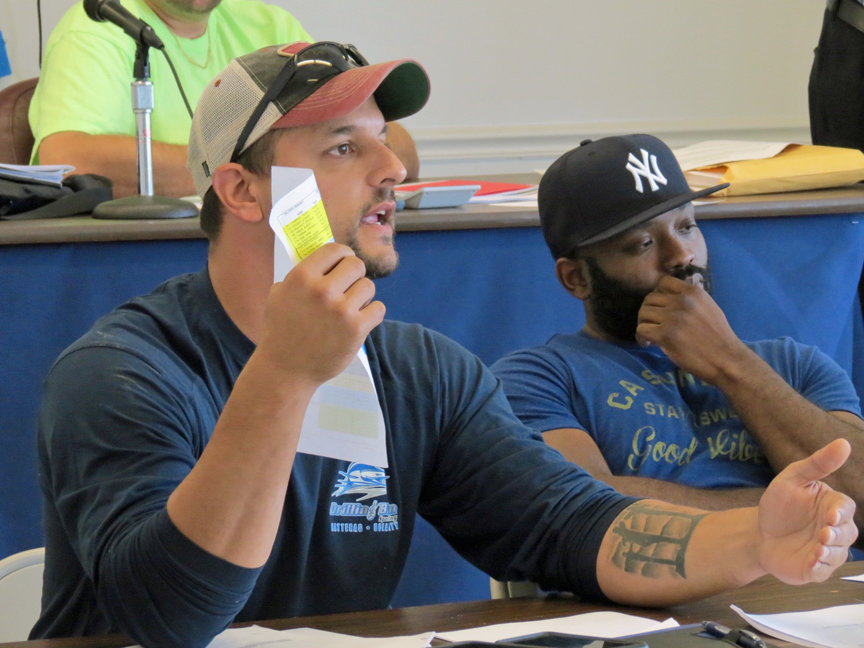 their hard work is a contract that protects our members and provides wage increases that we can continue to build on." In other contract news: Drivers, residential aides and day-center aides at Unified Care Connections (UC2) ratified tentative agreements. Stay tuned for those and other contracts information in our next issue of The 570 Express newsletter. Photos/ Top L-R: Negotiating team members Glenn Fewster (not visible), Anthony Chillemi, Martin Henry, Jason Lambert, Jeff Stifler, Jerome Boyd. Left L-R: Anthony Chillemi, Martin Henry. Teamsters Joint Council 62 photos