Local 570 stewards brush up on their skills at bi-annual seminar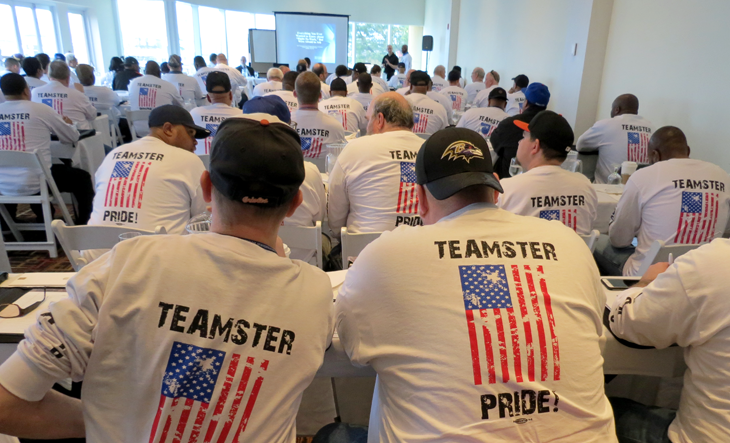 March 2017 | (Click image above to enlarge) Update: Additional photos can be viewed here and here.
Every two years the Local 570 Executive Board sponsors a training seminar for its frontline stewards and alternate stewards. More than 130 stewards are attending this year's seminar in Atlantic City, New Jersey. Top on the agenda is a frank discussion about the threat posed to American workers by the national RTW bill (H.B. 785, introduced in the U.S. House of Representatives in early February) – what it is, and what it is not. Other areas of training include the IBT's role in fighting RTW; the importance of Organized Labor's role in the continued fight to improve conditions and protections in the American workplace; workman's comp, health & welfare and pension information; and best practices of the grievance procedures. Stay tuned for more photos here, and additional coverage in the next issue of The 570 Express.
Baltimore City Council committee passes $15-an-hour minimum wage bill
Mar. 3, 2017 | The Baltimore City Council's labor committee voted Wednesday to advance a bill to raise the city's minimum wage to $15 an hour by 2022 for many workers. The bill could go to the full council for a preliminary vote as early as Monday. A majority of the City Council members have said they back the bill. The minimum wage in Maryland is $8.75 per hour, set to rise to $10.10 an hour by 2018… baltimoresun.com
Pepsi members overwhelmingly ratifies a 5-year contract
Mar. 6, 2017 | Bulk drivers, engineers, sales merchandisers, warehouse workers, fleet mechanics, and systems operators approved in February a contract that brings all Local 570 members employed at the Columbia and White Marsh, Md., facilities under one agreement. Among other gains, the contract significantly improves benefits, reducing by as much as half the annual deductions and out-of-pocket costs to members.
New! Apply online for Hoffa Memorial Scholarship before March 31
Mar. 13, 2017 | Sons and daughters of Teamster members can now apply online for the 2017 James R. Hoffa Memorial Scholarship. Academic scholarship awards either a $10,000 award split up over four years at $1,250 per semester or a one-time $1,000 award. Training and Vocational scholarship awards up to $2,000, depending on financial need. (See scholarship amount details in the applications.) "We'd like to see more of our kids continue their education with the help of our Teamster scholarships," said Denis Taylor, Teamster Joint Council 62 president, and president of Local 355 in Baltimore. "The money is there, it's available for your son or your daughter. All you have to do is fill out the form and hit send. But you must do it before the March 31, 2017, deadline."
Tell Congress to oppose the American Health Care Act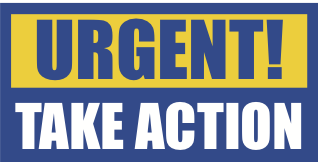 Mar. 23, 2017 | The House is planning to vote today on the American Health Care Act, the legislation to replace the Affordable Care Act (ACA). This bill would repeal all of the other taxes that were included in the ACA, except for the so-called "Cadillac Tax," which imposes a 40% excise tax on workers' health benefit plans. With repeal of these other taxes, insurers, corporations, and the wealthy get a tax cut. Hard working middle class Americans only get a delay in the "Cadillac Tax," not full repeal. Upon implementation of the "Cadillac Tax," millions of Americans and hundreds of thousands of Teamster members could see their health care benefits scaled back or dropped. We need you to call upon your representative and urge them to vote AGAINST the American Health Care Act. Take action now!
Teamsters launch campaign to fight back against right-to-work
Mar. 28, 2017 | The Teamsters are planning to mobilize and campaign against right-to-work laws (RTW), both on the federal level and in western states, the Southern California Teamster reports. To make sure members know how to contact their lawmakers, the paper has published the names, office suite numbers in D.C., and phone numbers of every single U.S. representative in Southern California, Hawaii, Nevada, and Arizona…."For starters," the paper says, "the object is to tell lawmakers about the importance of shooting down the legislation amending the National Labor Relations Act (NLRA) and the Railway Labor Act." peoples world.org
Slashing Amtrak funding is shortsighted
Mar. 29, 2017 | Instead of bolstering the national passenger railroad that plays an essential role in the U.S. transportation system, proposed budget cuts would reduce service to some 23 states where long distance Amtrak trains currently make stops. The move would eliminate the jobs of more than a thousand rail Teamsters aligned with the Brotherhood of Locomotive Engineers and Trainmen (BLET) and the Brotherhood of Maintenance and Way Employees Division(BMWED)… teamster.org