Update: New contracts at Costco, National Gypsum, Potts & Callahan
Aug. 16, 2016 | Costco members (and their counterparts in New York and New Jersey) overwhelmingly ratified an agreement under which they will be covered by the Western Conference of Teamsters pension plan for the first time in the history of their membership. Continued…
National Dems back $15 min. wage. Baltimore Dems, not so much
Aug. 12, 2016 | The bill is in real danger of failing, Councilman Robert Curran told In These Times, as advocates for the legislation have been unable so far to line up the required eight votes for final passage.
Baltimore's Democratic City Council kills $15 minimum wage bill, for now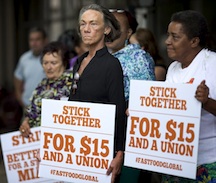 Aug. 17, 2016 | The Baltimore City Council derailed a proposed increase in the minimum wage to $15 an hour Monday, highlighting the ambivalence among many Democratic Party leaders over whether to support the national Fight for $15 movement. Pro-business members on the all-Democrat 15-member council were able to hold together an alliance against the higher minimum wage and voted 8-6 to return the proposed legislation to committee for revision. The maneuver appears to have effectively killed the bill, at least for this year. inthesetimes.com
Teamsters Union endorses Hillary Clinton for President
Aug. 30, 2016 | The Teamsters General Executive Board last week unanimously voted to endorse the former senator and secretary of state. "We are proud to endorse Hillary Clinton for President of the United States," said Teamsters General President Jim Hoffa. "She is the right candidate for the middle class and working men and women across the country. She will stand strong for the workers of America by fighting to reject job-killing trade deals, enforcing labor laws and working to provide retirement security for millions of people who have sacrificed so much for the chance to retire with dignity…" teamster.org
Watch last week's Teamster Leadership Debate
Aug. 30, 2016 | Fred Zuckerman and Ken Hall, candidates for Teamster top offices, participated in a debate last Thursday at the National Press Club: c-span.org