Teamster convention approves slate of resolutions on final day
July 6, 2016 | Attendees at our union's 29th annual convention approved resolutions that clarify the union's policy stances on everything from airline organizing to worker misclassification. A full slate of resolutions can be read here. (Note: The convention is the highest governing body of the union, subject to the right of referendum by the membership. The General Executive Board has the authority to carry out the policies and directives approved by convention action.)
First Local 570 American Red Cross Blood Drive a success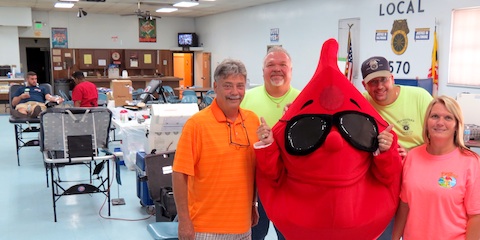 July 18, 2016 | Union members and neighbors from our community came to the Union Hall yesterday to donate blood during our all-day American Red Cross Blood Drive. More than 20 people spent less than hour during which they donated an average of one pint of blood. (Fact: Each pint of donated blood can save up as many as three lives.) "We are very pleased with the turn out," said 570 Recording Secretary Rich Brown. "We'll have more drives as part of our community service. And we'll be sure to give early notice to our companies and community with the goal of increasing participation." Pictured with the Red Cross Blood Drop, left to right are Local 570 Vice President Neil Dixon, Business Agent Joe Fowler, Rich Brown, and Local 570 Secretary Dawn Wagner.
Code red heat warning in Baltimore
July 25, 2016 | The Baltimore health commissioner is urging residents to prepare for 100-degree heat on Monday that could pose dangers for the young and elderly. The temperature is forecast to reach as high as 100 degrees, but it could feel as hot as 109 with humidity and wind factored in, according to the National Weather Service… baltimoresun.com Read the Teamster fact sheet on heat stress here.