Teamsters take their fight for justice to David's Bridal customers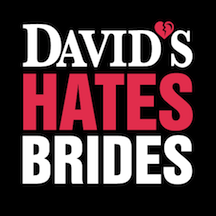 June 7, 2016 | Several Teamsters local unions last weekend alerted David's Bridal about the company's unsustainable debt and terrible customer service record. US Foods is co-owned by Wall Street firm CD&R, a private equity company that also owns David's Bridal, the wedding dress/wedding services retail chain. It's not just ownership that US Foods and David's Bridal have in common… More about why this matters here.
Midwest Teamsters win surprise victory, force gov't not to slash their pensions
June 8, 2016 | In a stunning demonstration of the power of grassroots organizing, retired Teamster union members across the Midwest have forced the federal government to back down on plans to slash pensions on thousands of retired workers. The initial decision in favor of the retired truck drivers came May 6. Karen Friedman, executive director of the Washington, D.C.-based Pension Rights Center, credited an effective media relations effort and constituent-contact campaign from grassroots retiree groups in Ohio, Wisconsin, Michigan, and elsewhere, for blocking the cuts… inthesetimes.com
USF strike line extended to Minneapolis
June 8, 2016 | This afternoon 325 drivers, warehouse, yard and maintenance workers and office staff who are members of Local 120 refused to cross our extended picket lines. They join US Foods workers in New Jersey, Indiana, Colorado, Michigan, Washington, Illinois, New York, and Ohio who took similar action last month. Other actions took place across Southern California and in Phoenix in May. In all, more than 2,800 Teamster brothers and sisters have either gone out on strike or honored our picket lines at some time since the company forced us to walk out April 28th in an unfair labor practices strike. Photos here…
US Foods, one of two Teamster locals reach agreement over warehouse closure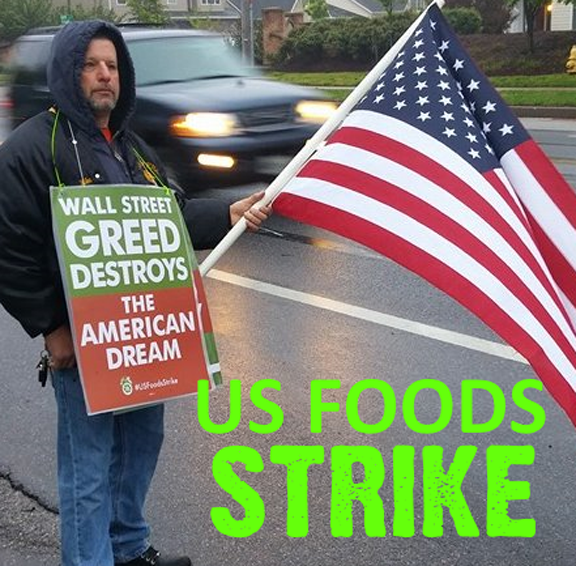 June 10, 2016 | ...Members of Local 570 of the International Brotherhood of Teamsters ratified the agreement Wednesday night, the company said in a statement. "Last night union members ratified the agreement, which provides them with severance, health care and transition assistance," Debra Ceffalio, a US Foods spokeswoman, said in the statement. "Closing this facility was a difficult decision; however, it was necessary to more cost-effectively service our customers throughout the area by removing excess capacity and reducing overlap between our distribution centers."... baltimoresun.com Note: The fight with US Foods in Baltimore and elsewhere is not over. Local 355's strike line remains in place, and other strategic actions will continue until US Foods comes to a fair and just agreement with the union.
Contracts ratified at Toyota, Cloverland, Pepsi, and others
June 21, 2016 | During the last several months the Local's bargaining teams have worked tirelessly to bring tentative agreements to members for their approval and ratification. Among new contracts recently approved is a three-year agreement with Toyota that provides wage increases and enrollment in the Teamsters 570 pension plan, a significant improvement for members. Continued...
Teamster Local 570 Blood Drive: Give blood, save a life
June 22, 2016 | We're sponsoring an American Red Cross blood drive at our hall on Sunday, July 17, 2016. Please do your part to prevent a summer shortage: Sign up, show up, give blood! Details here.
Costco Teamsters in the East join Western Conference Pension Plan
June 24, 2016 | Teamsters who work at Costco in Maryland, New York and New Jersey have overwhelmingly ratified an agreement under which they will be covered by the Western Conference of Teamsters pension plan for the first time in the history of their membership. The Western Conference is the largest Taft-Hartley defined-benefit pension plan in the nation...After the members rejected a previous company offer in March, Costco and the Teamsters met to correct the areas that caused the rejection—the attainment of the pension plan in the East being the major area of concern. Costco agreed to allow the members in the East to decide by a separate vote as to whether they wanted to enter the pension plan. Based largely on this change, the California agreement was ratified overwhelmingly in May. The East Coast Teamsters ratified their contract in a vote count conducted yesterday... teamster.org
Talk of political power, global solidarity dominates at Convention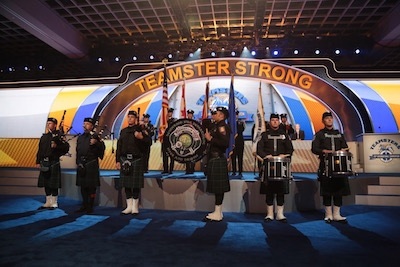 June 29, 2016 | Politics and policy were front and center on Monday, the first day of the Teamsters 39th International Convention, as thousands of Teamsters lauded the union's support for a platform that calls for more infrastructure investment and election contributions by members while calling out lawmakers who would ship jobs overseas or hamper collective bargaining. Teamsters General President Jim Hoffa told attendees the last five years have been a time of success for the union. The second day focused on global solidarity and building worker power through organizing in key industries, and covered a number of priorities for workers, including organizing campaigns in freight, warehousing, the ports, Silicon Valley and more. Delegates also passed resolutions today on executive pay/Capital Strategies; freight organizing; warehouse organizing; and port organizing. Nominations took place for At Large Vice Presidents and Trustees... More at teamsters.org
Convention delegates join in show of solidarity, support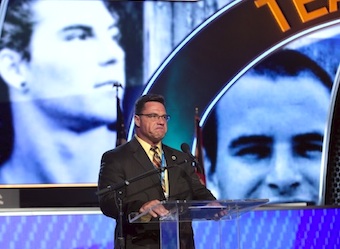 June 30, 2016 | Yesterday, Teamsters at the union's 29th International Convention united behind a Teamster family in Akron, Ohio, and pledged more than $1.4 million to help fund a drug treatment facility. The facility will honor the son of Local 24 President Travis Bornstein, who died of a prescription-drug overdose in 2014. (Learn more here.) Other business during the third day of the convention included the passage of a resolution in support of continuing work to protect the retirement security of Teamster members and retirees, and nominations for regional vice presidents. teamster.org