News Items - February 2016
Teamsters and others fight pension battle over the multi-employer fund
Feb. 4, 2016 | A half mile from their union hall, over 220 retired members of Teamsters Local 346 gathered at Holy Family Catholic Church in Duluth's West End in late January to fight for their pensions. But this isn't just a Teamsters fight. They're one of the unions under the knife now, but 200 multi-employer pension funds covering 1.5 million American workers could be in jeopardy for a number of reasons. peoplesworld.org
US Foods forces Phoenix Teamsters to launch unfair labor practice strike
Feb. 5, 2016 | Teamsters Local 104 members with US Foods took up unfair labor practice pickets yesterday, charging the nation's second-largest foodservice provider with bargaining in bad faith and discriminating against its union workforce as they attempt to negotiate a new collective bargaining agreement. teamster.org
Call now and urge Congress to say NO to job-killing TPP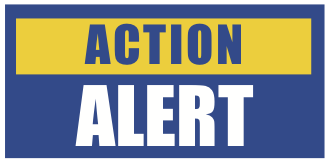 Feb. 10, 2016 | TLast week, trade ministers gathered in New Zealand to sign the Trans-Pacific Partnership (TPP). But signing the TPP is not the same as it being ratified by Congress. This week, Teamsters from all of the country are flooding Congress with calls demanding they reject the massive trade deal. If we put enough pressure on our Congress members, the entire thing can still be derailed. That's where you come in: Please call the toll-free number 1-844-394-8431 now to join thousands of others urging Congress to oppose the TPP.
Cloverland Dairy members ratify new contract
Feb. 12, 2016 | Members employed at Cloverland Dairy packed into the Local Union Hall Super Bowl Sunday and voted by a 3-1 margin to accept a new 4-year collective bargaining agreement. The new contract, retroactive to Dec. 1, 2015, provides wage increases, maintains Health and Welfare benefits, and phases out a two-tier wage system, among other gains. The contract also adds recognition and coverage for laboratory workers. Local 570 represents 278 mechanics, production and distribution employees.
Hall: WV legislature sides with corporate interests over workers
Feb. 16, 2016 | In statement released last Friday following the West Virginia Legislature's override of the governor's veto of so-called right-to-work legislation, Secretary-Treasurer and Local 175 President Ken Hall said, "This is a dark day for our state. Lawmakers have chosen to side with out-of-state billionaires over hard-working West Virginians. The Teamsters, together with other union members and working West Virginians, turned out to strongly oppose these bills because we understood passing them would do nothing to help workers earn a fair living…" teamster.org West Virginia becomes the 26th RTW state on July 1, 2016.
'Falls still kill far too many construction workers'


Feb. 22, 2016 | "While we regularly work with employers, industry groups and worker organizations on preventing falls and saving lives, the National Safety Stand-Down encourages all employers – from small businesses to large companies operating at many job sites – to be part of our effort to ensure every worker makes it to the end of their shift safely," said Dr. David Michaels, Assistant Secretary of Labor for Occupational Safety and Health. More than four million workers participated in the National Safety Stand-Downs in 2014 and 2015, and OSHA expects thousands of employers across the nation to join the 2016 event May 2-6, 2016. Related: Federal contractors with history of OSHA violations battle new safety rules. Download a copy of the Teamster Safety & Health Fact Sheet, "Contractors' Safety and Health Responsibilities."
Teamster mechanics picket, notify UA passengers of possible strikes
Feb. 29, 2016 | Hundreds of United Airlines mechanics picketed Friday at the San Francisco, Los Angeles (LAX), Newark, LaGuardia, Washington Dulles, Cleveland, Boston Logan and Orlando airports, to educate passengers about upcoming strikes. …The mechanics held picket signs that read, "ON STRIKE – Not Yet" and distributed leaflets to United's customers that read, "Passengers Brace for Summer Strike at UNITED"… teamster.org