News Items - September 2015
Hoffa: New platform makes unions strong, America stronger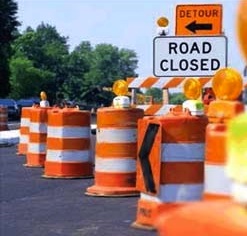 Sept. 2, 2015 | Today, more than 1.4 million members of the International Brotherhood of Teamsters are compensated for their skills and hard work with salaries and benefits that give them dignity and allow them to live a middle-class lifestyle. If this were true of more American workers, our economy and our country would be better off. This is a message the Teamsters intend to bring to the entire American workforce as part of the union's new "Let's Get America Working" campaign — if our nation is to prosper it must be union strong, America stronger. The Teamsters are unveiling a plan to help achieve those goals. Continue reading...
UAW in no rush to negotiate with Detroit automakers
Sept. 9, 2015 | UAW President Dennis Williams said Monday the union is making progress with all three Detroit automakers and is not ready yet to pick a target in its contract negotiations, even though there are only seven days left before contracts expire for about 141,000 autoworkers.. This year, the UAW also has the difficult task of meeting the expectations of many union members who haven't had a raise in 10 years. Continued… Related: Hoffa pledges solidarity with UAW in Big Three negotiations. "I know you haven't picked a target yet, but it's one of those three," Hoffa said. "If the UAW goes on strike, I make a pledge on behalf of the 1.4 million Teamster members – we will honor your picket lines."
Labor Dept. awards Teamsters $4.6 million training grant
Sept. 16, 2015 | The Teamsters Safety and Health Department has been awarded a $4.6 million grant by the U.S. Department of Labor (DOL) to establish apprenticeship programs for workers in the trucking industry. The grant will be awarded over a five-year funding cycle. Continued...
Teamsters protest as Treasury debates allowing pension cuts for 1.5m retirees
Sept. 16, 2015 | The retired Teamsters are among a group of as many as 1.5 million retirees from a long list of different labor unions nationwide that could see their pensions slashed under a new law quietly approved late last year. The immediate target of the angry Teamsters was the U.S. Department of the Treasury, which is in charge of administering the new law, the Multiemployer Pension Reform Act of 2014 (MPRA)…[the] MPRA allows pension fund trustees new freedom to reduce promised benefits in cases where the long-term solvency of the fund is in danger. Full story… Also, Hoffa joins Congressional leaders, retirees at rally to stop pension cuts. Watch the video.
Local 570 mourns passing of Terri Cheeks, First Student Inc.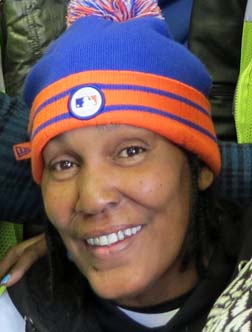 Sept. 22, 2015 | It is with great sadness we announce the sudden passing on September 16, 2015 of our union sister, Terri J Cheeks, of Baltimore. Terri, a shop steward at First Student Inc., was instrumental in helping her coworkers win their Local 570 organizing campaign in December 2014. A viewing will be held Thursday, Sept. 24, 2015, at Derrick Jones Funeral Home, 4611 Park Heights, Baltimore, MD 21215. The wake will be held Friday, Sept. 25, 2015, 10:30 am at Morningstar Baptist Church, 154 Winters Lane, Catonsville, MD 21228. The funeral service will begin promptly at 11am. The repast will be held at 1932 E 30th Street, Baltimore, MD 21218.
Chefs Warehouse workers vote to join Local 570
Sept. 25, 2015 | Local 570 welcomes 27 warehouse workers employed at the Hanover, Md. speciality foods distributor, The Chefs Warehouse, who today voted in favor of Teamster representation. Details to come.
Workers at US Foods vote overwhelmingly to authorize a strike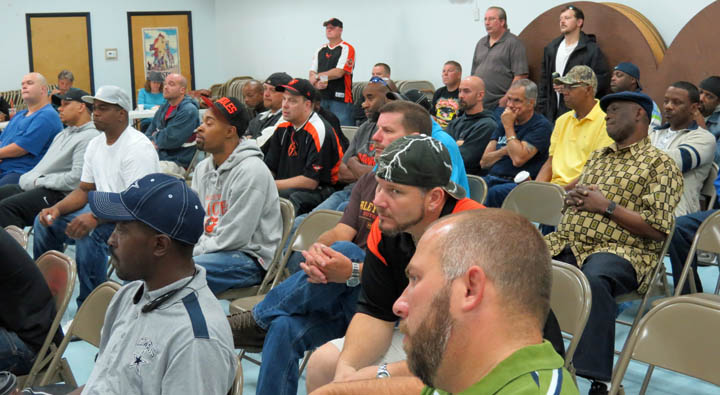 Sept. 26, 2015 | Local 570 members employed at US Foods in Severn, Md., today gave strike authorization to the Local Union leadership after Local Secretary-Treasurer Sean Cedenio gave the workers an update on the current status of negotiations and laid out the company's economic proposals which were presented Tuesday, Sept. 22nd to the bargaining committee: Wage cuts of $5 per hour, switch to a 401(k) from a union pension, switch from the Local 570 Health and Welfare plan to a company healthcare plan at a substantial cost to employees, reduction in the 7 paid holidays to 4. And that, according to the company, would just be the beginning of its demands. "This vote was necessary," said Mark Evans, shop steward and bargaining committee member after the vote. "We all have to stick together. When you've given years of your life to this company - in my case 21 years - you don't just sit down." The Local has filed two unfair labor practice (ULP) charges with the regional National Labor Relations Board. Watch this space for updates. "This vote is a good message to send to the company," Cedenio said. Last Wednesday, Local 355 drivers voted to strike.
Increased job deaths show need to focus on workplace safety
Sept. 28, 2015 | Why do we need unions? The reasons are many, but a key statistic released last week by the Bureau of Labor Statistics (BLS) highlights an often-overlooked one – to monitor workplace safety. Too many people die at the workplace. The Labor Department reported that 4,679 workers were fatally injured on the job in 2014., up two percent from the previous year… Labor Secretary Tom Perez said the numbers are not acceptable. Continued... Shop stewards, see this week's Steward Tip.
Battle against TPP heads to Atlanta
Sept. 30, 2015 | Trade officials involved in the negotiations of the 12-nation Trans-Pacific Partnership (TPP) may believe they are nearing the end of the process with meetings in Atlanta this week. But the Teamsters and other fair trade allies aren't going down without a fight... As the Teamsters have said before, there are just no good reason for everyday Americans to support this agreement. First and foremost is the deal won't create any new jobs here. Full story...