Tell Congress: Leave our 40-hr work week and OT pay alone!
May 1, 2013 | The House of Representatives has renewed its decades-old attack on the 40-hour work week. Once again, some members of Congress are pushing so-called "comp time" legislation that would allow employers to stop giving workers extra pay for working overtime. The "The Working Families Flexibilty Act" (H.R.1406) would eliminate overtime pay and replace it with "comp time." This bill is not about providing employees with greater flexibility. It's all about giving employers more flexibility and control over workers. Employees compensated with time off rather than time-and-a-half cash premium would see a reduction in their take-home pay. Passage of the bill would mean longer hours, unpredictable schedules, and employer control of when a worker can use accrued "comp time." Call Congress today and tell your representative to oppose H.R. 1406! Call now: 1-888-866-2561.
First Transit steward Renald Duverneau likes to fix problems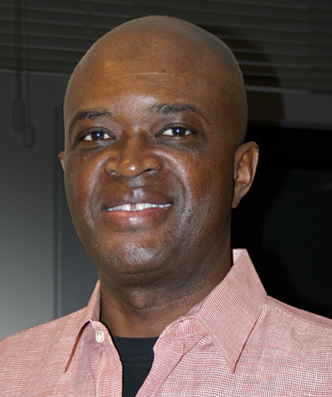 May 8, 2013 | First Transit driver and shop steward Renald Duverneau doesn't like the spotlight, yet he willingly steps into it again and again, because he believes that being a steward is never about him — it is all about his co-workers. Renald's quiet, deliberate manner belies the passion and commitment he feels about his work as a steward. "When my co-workers cried out for my help, I answered their call. There's something in me that wants to help someone who can't help themselves. I cannot stand by or look away if I can help." Renald, currently serving a second stint as a Local 570 steward, has been employed at First Transit since June, 2007. Born in Haiti, he came to the United States in 1981 to live with extended family... Read more here.
Durham School Bus workers speak out about safety, wage theft concerns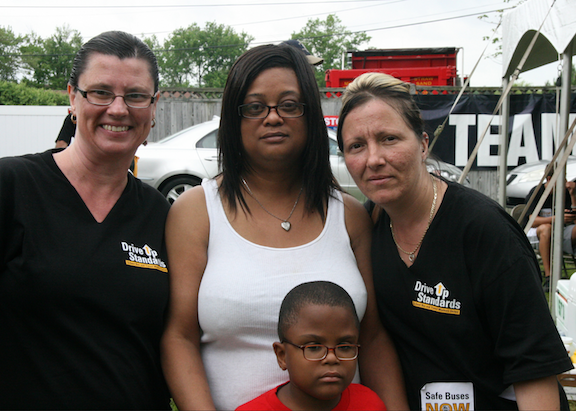 May 23, 2013 | School bus drivers and attendants with Durham School Services who transport students attending Baltimore City Public Schools joined with Teamsters, political and other community leaders at a rally today in Rosedale, Md., to demand respect and safe working conditions. "Safety is paramount. Durham has ignored the workers' concerns about the unsafe conditions of the buses. Making matters worse, workers aren't getting a fair day's pay for a fair day's work. These workers deserve a strong union so their voices can be heard and our kids can be kept safe," said Sean Cedenio, Secretary-Treasurer of Teamsters Local 570. Durham workers will vote May 31 for Teamster 570 representation. Read more at Teamsters.org. Top right photo: Durham School Bus workers get support from Local 570 officers, organizers and shop stewards, Teamster Drive Up Standards campaign staff and Teamsters Local 355 (Baltimore) members. Left: Durham workers Stephanie Urosa (left) and Vicki Anthony (right) with supporter Renee Jones and her son, Jaylin. Concern for their passengers like Jaylin, who suffers from chronic lung disease, is a driving force behind the workers' demand for improved bus safety.
School bus drivers protest working, safety conditions
May 24, 2013 | The Baltimore Sun - Bus drivers and aides employed by a Baltimore schools contractor say that unsafe conditions such as fires and mold spores are endangering lives and unfair wages are threatening their livelihoods. Read more. See photos. Watch video.
TeamsterNation: School bus workers rally to end wage theft in Md.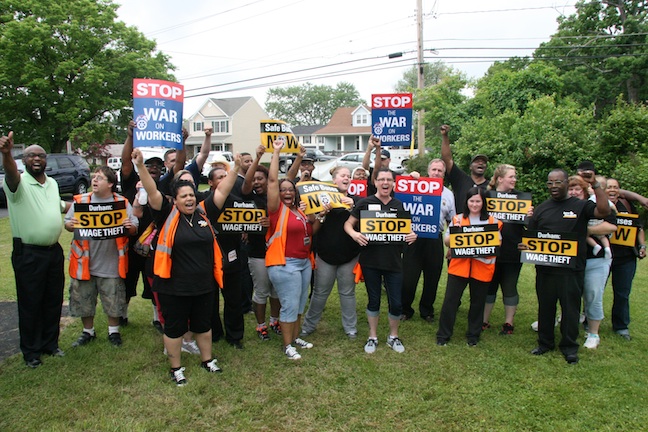 May 28, 2013 | Our International union's blog caught up with our story, posting this last Saturday: "The school bus workers' movement to improve safety and stop wage theft came to Baltimore earlier this week…" Read it here. Durham drivers and attendants will vote Friday to form their own union with Local 570. Stay tuned!