Roesel-Heck Workers Vote Teamsters; Other Local News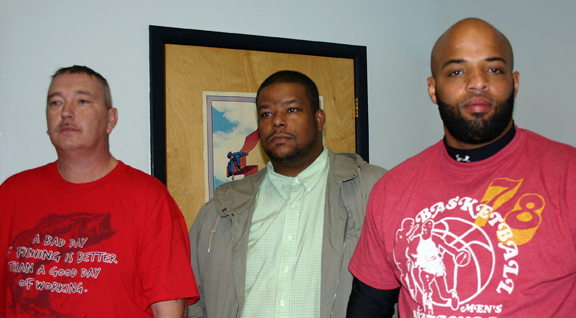 (L-R) Roesel-Heck members Marty Waggoner, Tyree Wiggs and Leonard Bridgeford.
Undeterred by a vote delayed for 3 days by Superstorm Sandy, 11 warehouse workers and drivers employed by Roesl- Heck, voted Nov. 2 to join Local 570. The workers united for dignity, respect and better safety on the job.
"I wanted to join the Teamsters because we have poor treatment and no job security," said warehouse worker Leonard Bridgeforth. "The employees have shown that they trust Local 570 to get them the dignity, respect, wages and benefits that a union contract can provide," said Principle Officer Sean Cedenio. Roesl-Heck is a regional wholesale distributor of floor coverings for commercial and residential properties.
Several months after United Cerebral Palsy (UCP) drivers voted to join Teamsters Local 570, 31 inside care providers voted overwhelmingly in November to become Teamsters.
A 2-year contract is in place for 75 warehouse workers and drivers at Bond Distributors that includes wage increases and maintenance of Health & Welfare, and pension contributions.
The Local is in negotiations with First Transit (Laurel), Pepsi/Havre de Grace (contract expires 12/31) and preparing for negotiations with Eby-Brown where the current contract expires in February 2013.
Hostess Brands, Inc., in bankruptcy since Jan. 2012, opted to liquidate the company, close its bakeries, and lay off 18,500 employees, including 38 long-term employees and members of Local 570.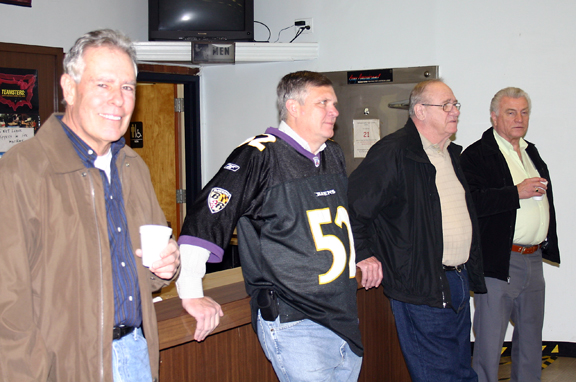 Winner Distributing recently offered buyout packages on a first-come, first-serve basis, and 24 of our members stepped up to take the offer. Four long-term members attended the December membership meeting and were recognized for their service and dedication to the company and to our union. Pictured left to right are Ken Bazemore (40 years), Mike Schwartz (32 years), Jim CLark (27 years) and Rick Dorsey (15 years). All retired from the company June 21, 2012.
Stay tuned here for updates.