Hostess Brands to Close Its Doors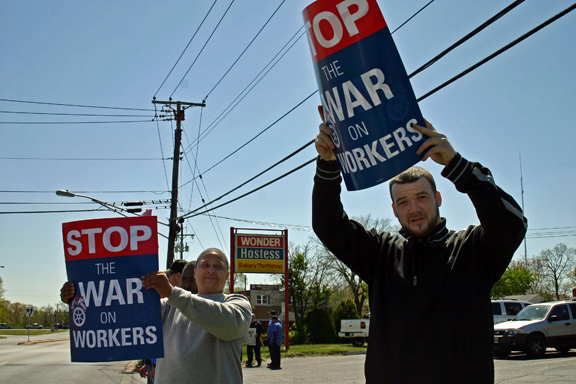 According to this CBS report, the company had "warned employees that it would file a motion in U.S. Bankruptcy Court to unwind its business and sell assets if plant operations didn't return to normal levels by Thursday evening."
The bakers didn't return to work by the 5 p.m. ET Thursday deadline. Their decision to defy that deadline put our members who, along with 7,000 other Hostess Teamsters, out of work at the worst possible time – just before the holidays. Members worked hard to give the company a fighting chance at success, even though it meant agreeing to an unpalatable concessionary contract.
With so many jobs at risk, Teamster Hostess members were dispatched on Thursday to Hostess facilities in Philadelphia, Pa., Tulsa, Ok., St. Louis, Mo., and Biddeford, Me., (where the largest percentage of BCTGM members were striking) where they tried to convince the bakery workers to return to work by the 5 p.m. deadline.
CEO Gregory Rayburn in an interview on NBC Friday was asked if the decision could be reversed if the bakers union returned to work, responded "Too late."
In the IBT's official statement released today following Hostess Brands' announcement to liquidate the company, General-Secretary Ken Hall wrote: "Our hearts and prayers go out the Teamster Hostess members and all Hostess workers who will lose their jobs. The timing of the closure could not be worse as we enter the holiday season. We will work with our Teamster Local Unions to Inform Hostess Teamsters of their rights to receive unemployment." (Read yesterday's IBT press release here.)
Many of our Hostess members are long-term employees, with 12 to 29 years on the job. It is a sad day for Local 570. Local 570 President Ray Valentine said Friday morning that if any Hostess member "needs any help any help at all" in the face of this latest development, including questions or concerns about unemployment, health & welfare and pension, do not hesitate to call him at 410-284-5081.
Pictured are 570 Teamster members at an April 2012 informational picket at a Hostess Brands facility in Glen Burnie, Md.
Romney-Style Economics Behind the Decline of Hostess, But Workers are Paying the Price
Via Working America - Hostess Brands is one of the most recognizable food companies in America, having manufactured Wonder Bread and Twinkies for decades. But now the company has announced they are liquidating, and company is unfairly blaming their workers, many of them members of BCTGM and the Teamsters.
The fact is that the responsibility lies with Hostess' management and the vulture Wall Street private equity firm behind them, and yet the workers are the ones who will suffer the consequences of this shutdown.
Read the full story here.