Local 570 Hostess Bakery Workers Conduct Walkout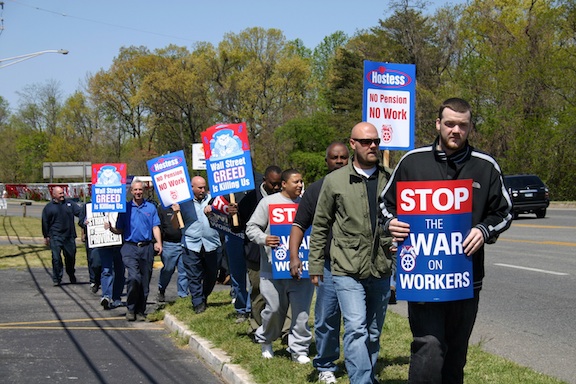 Teamsters on a picket line in front of the Hostess Bakery and Thrift Shop in Glen Bernie, Maryland.
April 13, 2012
GLEN BERNIE, MD. - Several dozen members of locals from Teamsters Joint Council 62 joined a one-hour informational picket line set up by Local 570's Hostess workers at the company's Glen Bernie, Md., bakery location Friday to protest concessions the alleged bankrupt bread maker is demanding of its employees.
Today's action was coordinated with unionized Hostess workers across the nation to send a clear message to the bankruptcy court judge that the Teamsters are prepared for a much longer walkout if the union's concerns are not addressed and the court rules next week to allow Hostess to set Teamster contracts aside.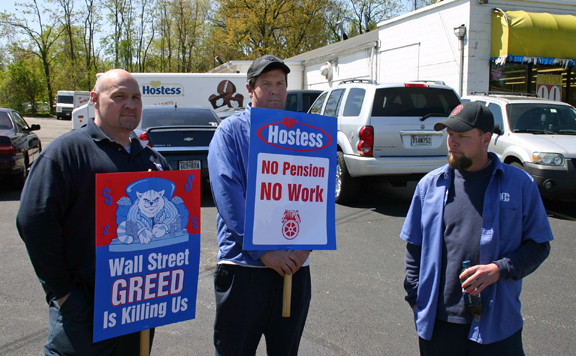 "We're really stressed out about this," said Mark Gribble (pictured left in photo at right), a CDL driver with the company for 19 years. "It's our jobs that are on the line here. We took a $110 per week pay cut the last time our company went into bankruptcy and they said they wouldn't come back for more. Now they're back, and now they want our pension too."
In January, Hostess Brands, Inc. filed for bankruptcy protection for the second time in 8 years, citing it's need to confront the enormous debt and labor obligations that it claims restricts its ability to compete. The Teamsters have worked hard during months of negotiations to identify mutual solutions that would address the company's problems but frustration has mounted since scheduled meetings have been repeatedly cancelled by the company.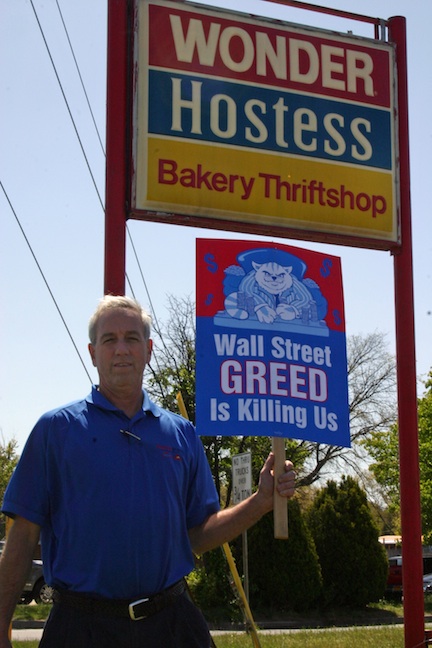 Revelations that company executives looted the company coffers before the bankruptcy filing and awarded its top executives over-the-top pay raises (since rescinded) has further outraged workers who have taken pay cuts totaling over $140 million per year.
"The onus is squarely on the hedge-fund owners," said Roland Censi (pictured left), a route sales driver with the company for 33 years. "They've made no investment in this business - or the workers that keep it in business. They're looking to make money and move on."
Woody Hartmann, (pictured above in middle) a 20-year driver, said he works 7 days every week so he can catch up on the money he lost because of the last bankruptcy. "I'm fully prepared to go out if we have too. But the fact is, we just really want to help fix the problem, but they're not listening. They need to stop taking from us. After all, we're the ones that earn their bread and butter."
The bankruptcy court hearing on Hostess Brands Inc.'s request to set aside its union contracts is scheduled for April 17 and April 18.
Follow the latest Hostess news at teamsters.org. Important information about the bankruptcy can be downloaded here.
Photos/Teamsters Joint Council 62/Baltimore, Md.