STAR Associates Drivers Join Teamsters 570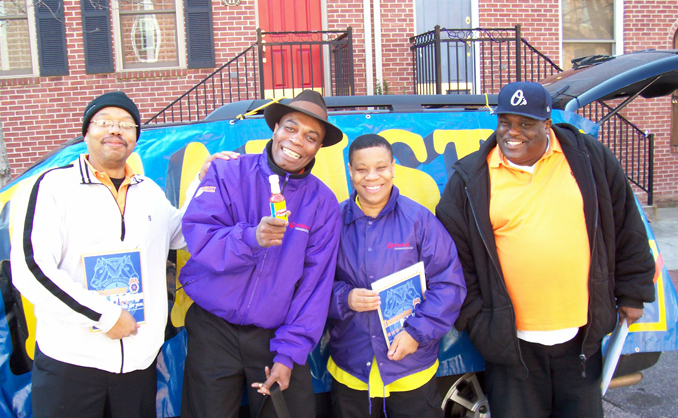 STAR organizing committee members Tony Tubman, Gregory Devone, Latonya "Lady" Night, and Mark Thomas are all smiles after the Feb. 17 vote count.
On February 17, 2012 eleven STAR Associates bus drivers voted unanimously to form their union with Teamsters Local 570. STAR Associates is the minority contractor for Veolia and the Charm City Circulator, which transports passengers in Baltimore City. The Veolia Circulator drivers are represented by Teamsters Local 570, and Veolia members and shop stewards were active in the organizing campaign.
"This is an important victory because we are building our power in the bus industry while we protect our existing membership," said Sean Cedenio, Secretary-Treasurer of Local 570. "Companies need to realize that they will not get away with playing one group of workers against another—we are all in this fight together."
STAR drivers were fed up with being shorted on pay, not getting raises, and working without many of the benefits that their Veolia counterparts have because of their union contract.
"I wanted to join Teamsters Local Union 570 because I want to be treated with respect and not like a second class citizen. We deserve better benefits, healthcare and a pension," said STAR driver Luisa Diforio.
Once workers started organizing, they faced intense anti-union intimidation from STAR CEO, Jerome Robinson, Jr. and STAR President Barbara Robinson (who is also a democratic Baltimore City Delegate). Workers received anti-union letters at their homes, and were forced to meet one-on-one with the CEO and his anti-union consultant Thomas Ridgely.
Teamsters Local 570 filed numerous unfair labor practice charges with the National Labor Relations Board, and had the Teamsters pressure STAR to stop their union busting.
The Teamsters made calls to political contacts to pressure the company, and the MD/DC AFL-CIO sent a letter to STAR President Barbara Robinson demanding that she stop her company's anti-union activity. STAR workers were encouraged by the strong show of support, and voted unanimously to form their union.
STAR Driver Mark Thomas said, "With a union, we will have a grievance procedure that can resolve any problems with management. We will have a better chance to obtain benefits, retirement, etc. because a united front is stronger than an individual."
On behalf of its 2,000+ members, Local 570 officers and trustees extend a hearty welcome to our newest members!