Stewards Recognized at Seminar, Dinner and Dance
DEC. 13, 2010 - More than 140 stewards and their guests attended Local 570's Shop Steward Seminar, Dinner and Dance held November 20 at Martin's East in Baltimore. Steward seminars are usually held every year – the last one this past January – but periodically the Local sponsors a well-deserved celebration for the hard-working, dedicated members who are on the front lines of the Union every day.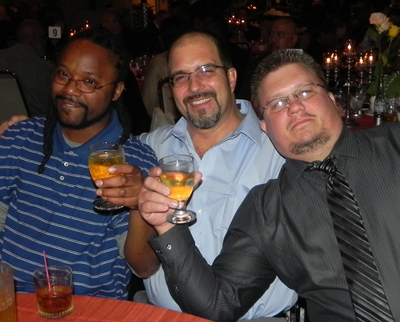 Master of Ceremonies and Local 570 President Ray Valentine individually recognized all the stewards, and provided introductions for the guest speakers, including Maryland Commissioner of Labor & Industry Ron DeJuliis who delivered greetings from Governor O'Malley; Federal Mediation and Conciliation Service Mediator Bill McFadden; Kim Bradley, attorney at Abato, Rubenstein & Abato who handles Local 570's Health and Pension Fund; Jim Rosenberg, also of Abato, Rubenstein & Abato who represents Local 570 in arbitration proceedings; retired Local 570 officer and business agent Kevin McDermott, and Mark Frey, shop steward for the drivers at F.P. Winner and one of the original organizers of the group. Mark was also recognized for his role in defeating an aggressive decertification drive at the company this year.
Secretary-Treasurer Sean Cedenio provided a "State of the Union" summarizing the Local's successes – and battles – of the year. Sean expressed great appreciation for the work the stewards perform. He told the audience "that it is only through working in unison as a union will we be able to survive through tough times".
Member and Pastor Albert Johnson provided the invocation. Raffle winners were Albert Johnson and Paul Davis, (Veolia Transportation); Tom Joicy (Entenmanns's); Jim Smallwood (Madison Warehouse); James Roche (Leonard Paper); Dexter Harrison (Merchants Terminal Corp.); James Johnson (RNDC); and Bryant Jones (F.P. Winner). – Pictured (L-R): Myron Love, Tim Grochowski, and Mike Brack of Stroehmann's Bakery. Additional photos will be uploaded to the photo gallery soon.