LU355 Karen Simpson endorsed by Joint Council in Md. delegate race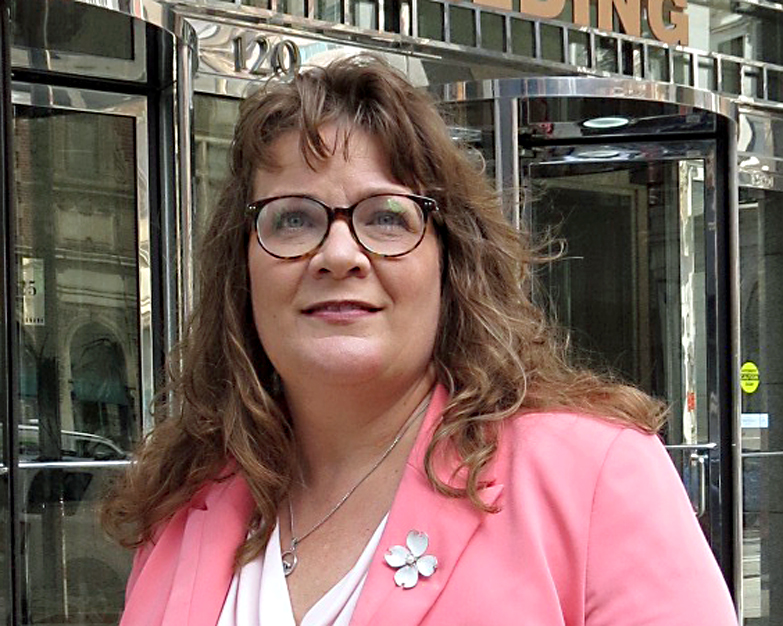 Continued from Main Page
that could have been prevented has been a motivating force in Simpson's life, a life dedicated to social justice and advocacy. In 1990, Paul, a member of a construction crew working on an Eastern Shore bridge project, plunged 65 feet to the ground as he tried to jump on to a crane-suspended platform from an unguarded concrete pier cap. Despite the site's unsafe working conditions, Paul was not provided with fall protection. Simpson believes that had he been represented by a labor union, her brother would be alive today. A union is all about taking care of its members, she said. Unions aggressively enforce employer requirements to provide safe conditions for its workers.
Simpson has served the State of Maryland for 26 years and became a Teamster in 2005 when she was recruited by Charles Marshall, a Local 355 business agent now retired. At that time, she was experiencing harassment by a manager in her agency and it was suggested that she reach out to the Teamsters. "Public sector unions are in a struggle today, but I understand the importance of unions and their advocacy on behalf of working people. When I needed an advocate, the union stood with me."
Simpson has extensive experience in bringing diverse groups together on the local and state level to address problems, find solutions, and accomplish common goals. Currently the Education and Training Manager of the Maryland State Retirement Agency, she also served as a Child Protective Services worker in Harford County and later as a Family Court Facilitator. A survivor of domestic violence and sexual harassment, Simpson is a #MeToo champion for the safety of women and children. Her interest in and concern for all people drive her candidacy for the House of Delegates. She promises to represent the people who elect her and not the special interests of a select few. She will work to provide opportunity, equity, and fairness for everyone in the community.
"Teamsters Joint Council 62 is proud to have the opportunity to endorse Karen Simpson for the Maryland House of Delegates," said Council President Denis Taylor. "We support any member who is willing to jump into the political process to bring a fair and determined voice on behalf of working people and the issues important to them and their families."
The Maryland and D.C. AFL-CIO, AFSCME Local 3, and LiUNA! Mid-Atlantic Region has also endorsed Simpson.
Simpson enjoys broad support for her candidacy. "I'm the only one that is surprised I'm running. I'm putting it all in, and I'm prepared to win." Engaging, friendly, and very focused on her message, she promises, "You will not be alone in our district. I believe we must take care of each other. I will fight for what matters and never stop fighting for those who need a voice."
Learn more about Karen Simpson at Karen4Maryland.com.
Maryland District 31B includes Gambrills, Glen Burnie, Lake Shore, Millersville, Pasadena, Riviera Beach, and Severna Park.
Local 355 and Local 570 are member locals of Teamsters Joint Council 62.