Local 570 to welcome Local 311 following merger approval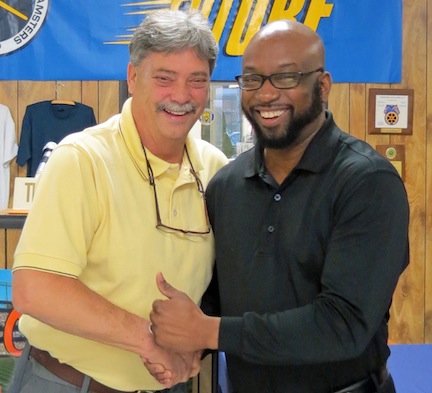 Mar. 30, 2015 | At a special meeting held Sunday, March 29, 2015, Teamsters Local 311 members approved their executive board's recommendation to merge with Teamsters Local 570. The Local's decision to seek a merger partner in Local 570 was not driven by financial need but rather a long-held commitment to building Teamster strength and power by increasing membership numbers. "We are being proactive," Local 311 Principle Officer Neil Dixon, told his members. "And together with 570, we'll be more than 3,400 Teamsters strong." Local 570 Principle Officer Sean Cedenio and members of LU 570's executive board attended Local 311's meeting. In his comments Cedenio said,"Our strength is always in our numbers. With this merger we will continue to build our union and, together, we will continue to build our power." Full story… Photo: Local Union leaders Neil Dixon and Sean Cedenio shake hands following the Local 311 merger vote.
Teamsters applaud veto of Senate resolution blocking NLRB rule
Apr. 1, 2015 | The Teamsters applauded President Obama's decision to veto a resolution backed by Congressional Republicans that would have blocked the National Labor Relations Board's rules designed to speed up the time it takes to unionize workers. The NLRB rule is scheduled to go into effect April 15, 2015. A description of the new rule and its reforms can be found here.
Baltimore could become the next Detroit. Seriously?
Apr. 1, 2015 | This isn't exactly local union news but it IS news we want to alert you to because it's bad news for hard-working people who rent in Baltimore. Think Progress reported Saturday that starting this week, 25,000 households in Baltimore will suddenly lose their access to water for owing bills of $250 or more, with very little notice given and no public hearings. City officials claim that residents using water without paying are to blame for the $40 million in overdue water bills. But the Baltimore Sun found that more than a third of those unpaid bills stem from just 369 businesses. ("Last year in Detroit, residents fought back against a similar plan to shut off water to customers with overdue bills.") About half of Baltimore's residents rent their homes, and most count on the property owners to pay the water bill. So why is this important? Central to this looming crisis is an issue of Human Rights.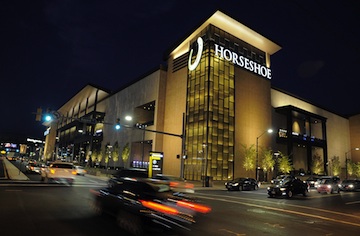 Horseshoe Baltimore Casino workers bet on union
Apr. 8, 2015 | The Horseshoe Baltimore Casino is now officially union. The cards were counted last week and a strong majority of Horseshoe workers voted in favor of representation by the National Gaming Workers Coalition, comprised of Unite Here Local 7, Teamsters Local 355, Operating Engineers Local 37 and the UAW. The Horseshoe has recognized the union and dates will soon be set for negotiations on wages, benefits and working conditions.
Failed fast track is nearly upon us – again
Apr. 13, 2015 | Despite the Teamsters and our allies making clear that U.S. residents will be hurt if fast track can be used to quickly push secret trade deals like the 12-nation Trans-Pacific Partnership (TPP) through Congress, some lawmakers had decided to side with big business instead. But unfortunately, the fight doesn't end there. [The TPP Fast Track bill will be introduced in the Senate Tuesday.] This union and others who care about hard-working Americans are gearing up for a fight, and will need everyone who can to join in. Read on… [The TPP will outsource jobs, undercut workers' rights, dismantle labor, environmental, health, food safety, and financial laws, and allow corporations to challenge our laws in international tribunals rather than our own court system.]
Teamsters take stand against fast track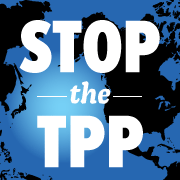 Apr. 16, 2015 | The Teamsters joined some 1,200 fellow union members and far trade advocates at a Capitol Hill rally yesterday to call on Congress to stop pushing for fast track trade promotion authority that would allow a quick up-or-down vote on bad trade deals like the TPP… Leo Gerard, president of the United Steelworkers, called on workers to head to the halls of Congress and let their members know their thoughts on fast track: "You make sure you tell them you put them there and you can take them of of there!" Full story...
Breaking news: Fast Track legislation introduced in Congress today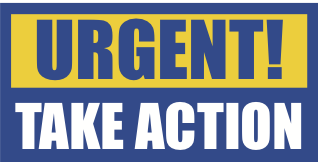 Apr. 16, 2015 | The fast track bill hit Congress today and we need your help to stop it. This bill will put good Teamster jobs in jeopardy. The TPP, the "NAFTA of the Pacific," will mean even more jobs sent overseas, lower wages for the jobs that remain, unsafe food and possibly a ban on our "Buy American" procurement laws and regulations. If Fast Track becomes law, however, Congress won't be able to change a single provision of the agreement. Please email your Representative and Senators right now and ask that they oppose Fast Track if it's brought up for a vote. The Teamsters Union has stopped Fast Track before. With your help, we will stop it again.
Every Monday: New information for members and stewards
Apr. 20, 2015 | Members, do you know what a contract campaign is? Or why it's important to file a grievance in a timely manner? Stewards, need a refresher on your rights as a shop steward? When past practice is relevant? Worried about confidentiality issues? Every Monday we provide answers to those questions and more with tips to help you learn more about your role in the Local Union. Available under Members Resources - Inside Wire: Tips for Members and Weekly Steward Tip. (Note: Forgot your password? Email teamstersjc62@gmail.com for assistance.)
Today is Worker's Memorial Day: 'Speak Out for Safe Jobs'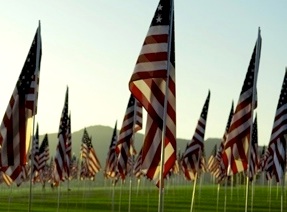 Apr. 28, 2015 | The Teamsters Union, and trade journalists around the world, recognize April 28 as Workers' Memorial Day – and international day of remembrance and action for workers killed, disabled, injured or made ill by their work. To help mark this important day, our union has provided background information on this day of remembrance and these resources to help you start a conversation with coworkers or plan activities in your workplaces.