News Items - December 2014
Anti-union grocer slashes benefits, pensions for 1,100 Pa. Teamsters
Dec. 4, 2014 | In a new version of the old ploy of manipulating federal bankruptcy courts to bludgeon unions into economic concessions or givebacks, the nation's largest grocery wholesaler used sped-up court procedures to make a quick buy of one of its regional competitors last month – and, in the process, slash the pensions and benefits of 1,100 truck drivers and warehouse workers. Full story here.
Teamsters at Castle Oil about to lose their jobs - Help save them!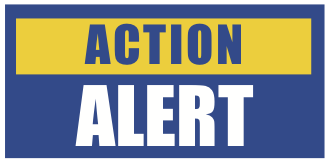 Dec. 5, 2014 | Teamster drivers and mechanics for many years kept New York warm delivering fuel from the Bronx for Castle Oil. Now, just before Christmas, they're about to be thrown out into the cold. Corporate giant Sprague Energy is buying Castle Oil, and 50 members of Teamsters Local 553 are losing their jobs in the process. They'll be replaced by non-union, low-wage contract jobs. You can help: Please take a minute to sign this petition, urging Sprague Energy's CEO David Glendon to keep these good, middle-class jobs in New York. Your support will be greatly appreciated by the 50 Teamsters at Castle Oil who fear a bleak Christmas.
Teamsters take a stand against unfair TPP, Fast Track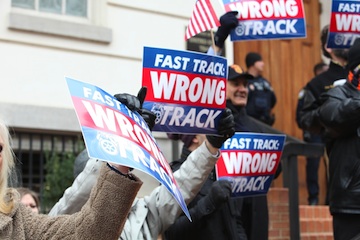 Dec. 9, 2014 | The Teamsters joined hundreds of labor and fair-trade activists yesterday in calling on the U.S. government not to move forward with the 12-nation Trans-Pacific Partnership (TPP) or fast-track trade promotion authority that would speed its consideration… "The voices of millions of working, middle-class Americans cannot be ignored," said General President Jim Hoffa. "They are tired of being the casualties of bad trade deals that send good-paying jobs overseas. The Teamsters Union will continue the fight against Fast Track authorization and the Trans-Pacific Partnership – American workers cannot pay the price of another bad trade deal." Full story and photos here.
Report: Sysco poised to complete $8.2B merger with US Foods
Dec. 11, 2014 | The New York Post reported today "…Sysco is selling assets worth $5 billion to Performance Food Group to win regulatory approval, two sources said. That is equal to roughly one-quarter of US Food's revenue…" Full story here.
Teamsters denounce Senate passage of Omnibus Spending Bill
Dec. 11, 2014 | "With the passage of the omnibus spending bill by the Senate, we have witnessed the latest attack by corporate interests on working families, " said Teamsters General President Jim Hoffa in response to the Senate's passage of the Omnibus Appropriations Bill. "Big business and Wall Street have bought and paid for influence and access that has allowed them to continue to enrich corporations at the expense of the middle class... We can only hope that President Obama rethinks his present course of action, recognizes the destructive nature of the provisions in this bill and vetoes it when it reaches his desk." Full statement here.
Call your senator NOW!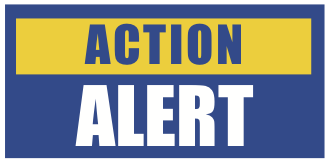 Dec. 12, 2014 | Tell them to vote NO on the Cloture and NO! on the Omnibus to protect Teamster pensions and jobs. Call 888-979-9806 to be connected to your senator. The Teamsters Union is opposed to the Omnibus Spending Bill. It keeps government open on the backs of hardworking Americans and retirees. Click here to learn what the legislation would do, then call your senator at 888-979-9806. Do it right now.
What the CRomnibus Law means for multiemployer pension plans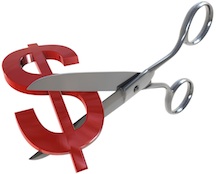 Dec. 16, 2014 | … The law states that plans in"critical and declining status" can temporarily or permanently suspend current and future benefits. This suspension can include benefits already accrued for vested participants and benefits already being paid to retirees and beneficiaries…The law sets limits. For example, the monthly benefit of any participant or beneficiary may not fall below 100% of the PBGC's guaranteed monthly benefit. Participants and beneficiaries aged 75 and older are afforded special protections, as are those with benefits based on disability. Full story here. Related: Those pension cuts and what you need to know.
Take two and call me in the morning
Dec. 24, 2014 | "The Occupational Safety and Health Administration (OSHA) is reminding all employers and workers of the importance of maintaining a healthy, influenza-free workplace this season and throughout the New Year. Check out the Department of Labor's 7 simple ways you can help prevent seasonal flu in your workplace.
Local 570 welcomes First Student school bus workers
Dec. 29, 2014 | First Student school bus drivers and monitors who transport children attending Baltimore City Public Schools have voted to join Teamsters Local 570 in Baltimore. The 113 school bus workers work out of First Student yards in Baltimore and Severn, Md., and joined the union seeking respect, fair pay and dignity at work. "We're pleased to welcome these hardworking school bus drivers and monitors to the Teamsters. We look forward to working hard to represent their interests on the job," said Sean Cedenio, Secretary-Treasurer of Teamsters Local 570. Full press release here.